In my blog post Reasons for establishing S&OP in Mobile Telecoms, I recounted a success story of S&OP in a mobile telecoms company. I then went on to discuss the principles of S&OP design in the post Learn the 8 Basic Principles of S&OP in Mobile Telecoms.
My discussions with Colin, our Mobile Telecoms Executive, continued. Colin is a Senior Executive with a mobile telecommunications company with operations in several markets in Africa.
We started talking about the nuts & bolts of how S&OP could actually work in a mobile telecoms company.
We designed the outline of an S&OP process including with a regional supply chain and operational structure in mind. Diagrammatically the design we came up with was as follows: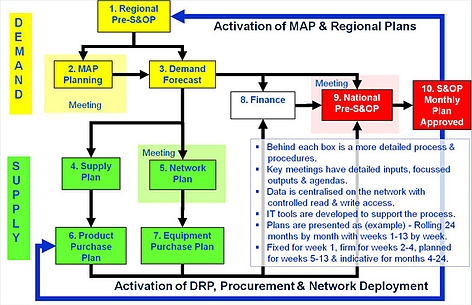 The process commenced with input from the regions within the country – we called this regional S&OP. The demand review considered inputs from local marketing activity and the regions; the forecast also considered trade data.
The supply review considered two main series of activities. The supply plan and product purchase plan considered the provision for mobile handsets and other items sold in the local market (NB some markets also used scratch cards that sold airtime). A network plan and equipment purchase plan looked at the supply needs to maintain the network.
Following a financial evaluation of the demand and supply plans, a national pre-S&OP consensus meeting was undertaken. The process concluded with the monthly S&OP meeting to agree the plans. Following this demand execution and supply execution processes put the plans into action.
As it happened the design was similar to the one that Enchange has used in the past with mobile telecoms companies in African markets.
Let's see if it does the trick for Colin.