As we celebrate St George's Day and the birthday of William Shakespeare (also the date he died!) what would the great bard think about S&OP in FMCG and Pharmaceuticals?
Is this a plan which I see before me,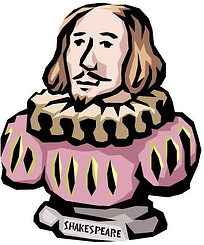 The numbers are as we planned? Come, let me see.
They are not, I see two numbers, still.
Art thou not following S&OP, incredible!
Your "gut feeling" could be right? or is this but
A plan of the sales mind, a false creation,
Proceeding from the bonus-obsessed brain?
I see this yet, inform others
As this which you cannot ignore.
Thou shall assure me S&OP gets going;
And the S&OP instrument I want used!
Mine eyes see the foolish lack o' consensus,
Or else worthless at best; I see this ill,
And on thy supply plan remove doubts of "could",
Which was not so before. There's no such thing:
It is the demand plan which conforms
Thus to mine eyes. I must see minutes recorded
Pre S&OP must go ahead, and ERP is in use.
The gaps could be deep; discussion eliminates
Take extra offerings, and work even harder,
Align by this meeting, calm the sales wolf.
More minutes you attach, thus with stealthy pace
With colleagues at your sides, a single plan design
Move on to the Board. Ensure a firm-set plan,
Fear not our quips, the way we talk, no fear.
Some small adjustments we may talk about.
And take the present plan and deploy as,
This now suits the Board. S&OP is done, and leads
Towards defeat of those where S&OP lives not.
The original William Shakespeare work.

Is this a dagger which I see before me,
The handle toward my hand? Come, let me clutch thee.
I have thee not, and yet I see thee still.
Art thou not, fatal vision, sensible
To feeling as to sight? or art thou but
A dagger of the mind, a false creation,
Proceeding from the heat-oppressed brain?
I see thee yet, in form as palpable
As this which now I draw.
Thou marshall'st me the way that I was going;
And such an instrument I was to use.
Mine eyes are made the fools o' the other senses,
Or else worth all the rest; I see thee still,
And on thy blade and dudgeon gouts of blood,
Which was not so before. There's no such thing:
It is the bloody business which informs
Thus to mine eyes. Now o'er the one halfworld
Nature seems dead, and wicked dreams abuse
The curtain'd sleep; witchcraft celebrates
Pale Hecate's offerings, and wither'd murder,
Alarum'd by his sentinel, the wolf,
Whose howl's his watch, thus with his stealthy pace.
With Tarquin's ravishing strides, towards his design
Moves like a ghost. Thou sure and firm-set earth,
Hear not my steps, which way they walk, for fear
Thy very stones prate of my whereabout,
And take the present horror from the time,
Which now suits with it. Whiles I threat, he lives:
Words to the heat of deeds too cold breath gives