The sharp, customer end of the extended supply chain continues to receive attention as companies implement and hone S&OP and RTM-style programmes. The multiple drivers include cost of course, but also customer service and a desire not to be out of stock particularly in critical seasonal peak periods. If your "sharp end" is looking OK at the moment you might take a look at the other end of the chain.
Not so long ago companies like Unilever and P&G focussed their attention (perhaps too much?) on getting optimum performance out of their manufacturing facilities. Initiatives such as the Japanese based TPM squeezed out every last grain of efficiency at lower and lower operating costs. Indeed, some factories reached stunning levels of operational reliability, flexibility and cost. Great news!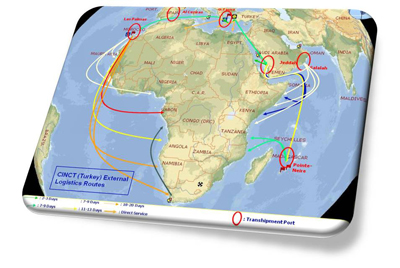 Unfortunately, business like life does not stand still and taking the time to study your factory footprint regularly will pay dividends. The footprint that was so slick and fitting 5 years ago may now be hindering your business. In fact, who needs to wait 5 years when you consider the increasing pace of change in the world?
Amongst a whole host of factors to consider:
Did you buy another company with its own manufacturing network?

Did you sell off a significant part of your business?

Did any trade barriers go up or disappear, e.g. CEE countries accession to EU?

Has a previously low cost base suffered inflation or the damage of a highly volatile currency?

Is the workforce sufficiently skilled and do local colleges still support the conveyor belt of technical talent?

Has your portfolio or technology base changed resulting in over capacity and idle assets?

Does your footprint include a location affected by rising public unrest and government instability?

Are new territories offering start-up tax breaks or attracting structural funds?

Have improved logistics capabilities made inter- and intra- regional transfers attractive?

Can competent 3rd parties do the job better than in-house facilities?
If you have not studied your factory footprint lately you might consider this now as the global economy wakes up to a hopefully brighter future. Forget S&OP and RTM etc for now; if your factory footprint is flawed or outdated you will lose sales and miss out on growth opportunities, fact!
Don't kick yourself in the footprint!