Previously I have looked at sku complexity in FMCG, Brewing and Pharmaceutical businesses and how it can affect customer service and profitability. This simple chart shows how you should be reviewing your sku portfolio to ensure your resources are placed behind winners. A regular clean out will pay dividends in the long run so have the debate but make some binding decisions.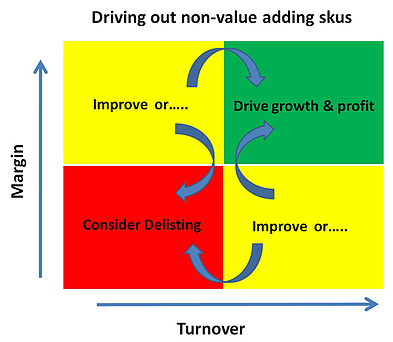 Now that the FA Premier League season is over for another year I thought how managers such as Sir Alex Ferguson and Kenny Dalglish could use a similar tool. After all, players are simply skus and weekly the manager shuffles his pack trying to get the best result. With football players the cost of an "sku" is known so you can make an even more accurate assessment of your return on investment (ROI). In daily business you either need a very detailed and fluid ABC costing activity or you make an estimate of the cost of having an sku on the range.
This is how I think an end of season sku complexity chart would look like for the teams finishing in the top 6 this year. I stress this is my personal view and I have no axe to grind with any team or any player. To put this into perspective, my team is Tranmere Rovers from the depths of the English league system!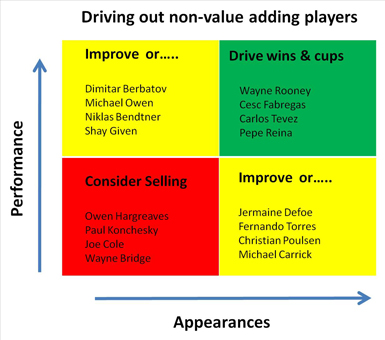 Picking out a few examples starting with Torres. On the "strength" of his goals return since being acquired for 50million GBP then arguably he should be in the red box as he is not generating any ROI. Yes, you need to give skus time to settle but his purchase price to have on the playing list plus his weekly expense would not be tolerated in business. He has to improve quickly next season.
Few would argue with the choice of Wayne Rooney for the top box. Rooney has scored some wonderful goals this season and not least the overhead kick against Man City. There have been a few hair-raising moments for Rooney this season but there is no doubt he helped Man U take many scalps both in England and in European competition.
Joe Cole is firmly in the red box. Ok, he did not cost anything to buy but he does have heavy weekly maintenance costs. I think Dalglish will dispose of the Cole brand and actually make a handsome profit on the deal.
In the top left box there is a mixture of players who simply do not appear regularly but when they do they do actually perform well. Berbatov was top scorer last year but does not play in all the big games. Shay Given is a top keeper who wants to play in the Premier League but is blocked from doing so by Joe Hart. These skus could be distracting other players in the team and blocking the way for fresh skus. These are all big names who receive (not earn) vast amounts of cash but they might be undermining the rest of the range, i.e. you could be spending this money elsewhere.
Those players and skus that deliver value for invested capital are the ones that prolong their stays at the top teams. However, sooner or later every single player will outlive his usefulness, move on and be replaced by something new and more successful