I published this some time ago and have just realised I did not follow up with the answers! Here they are, inserted in red text.
People working in modern FMCG, Pharma Supply Chain use a whole host of initials and acronyms to get through the day. Warehousing, planning, customer service, logistics and route to market all have their share of "SC code". Some of this must sound like a foreign language to non-SC people and I guess it is really. You can have a conversation about a specific issue and Sales and Marketing will not understand what you are saying! Sounds like a good idea to me.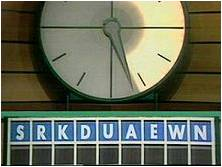 Let us see if we can expand on the Supply Chain language theme with these anagrams:
Physical pun – every company needs one to get stuff from A to B. Supply Chain
To an appalling, insane loser - present in the best companies and led at CEO/Chairman level. Sales & Operational Planning
Coin rugs – ensuring you have the necessary raw and POS materials, for example. Sourcing
Trash! Vitriolic dodgy strippers – love them or hate them you need a reliable one of these. Third Party Logistics Providers
Cry, accuse or a fact - you must have it by SKU and not by brand. Avoided by Salesmen. Forecast accuracy
Unrelenting proper increases – many brands of this available. Glues all your decisions together. Enterprise Resource Planning
Snappy 'n' pulling – making sure the quantity of goods you need is allocated to factories. Supply Planning
Fine, democratic nosy parker – if you do not measure these you do not improve. Key Performance Indicators
Conversions of maggot's mud – the "stuff" sold by some of the world's biggest companies. Fast Moving Consumer Goods
Tacky, unsocial, rotten inane –powerful retailers. International Key Accounts
True verse comics – forget about this and nobody buys your. Customer Service
Torture to make – how you reach the shelf either in IKA or Traditional Trade (TT) Route To Market
How did you get on?