The majority of Supply Chain Director-level openings paint a picture of dynamic, forward thinking companies already operating at top performance and requiring you just to "keep the ball moving". This is not always the case so I wonder how an advert would look if a degree of realism was added.
The Company
A blue chip multi-national operation with strength and growth aspirations in Developing & Emerging markets.
The Role
Direct the entire length of the Supply Chain covering Source, Plan, Make and Deliver. You will also be expected to take on the role of Security, Safety, Health & Environment and QA with no extra remuneration. (Other non SC responsibilities may be added at any time without notice.)
Candidate Profile
A university degree; preferably in a technical subject.
Experience in running a complex and fast-changing Supply Chain.
You will have experience raising children as you will be required to clean up the mess made by colleagues.
Immense patience, e.g. when explaining the importance and difference of Forecast Accuracy and Forecast Bias to Sales & Marketing colleagues.
Good control of pain and movement to remove frequent knives from back.
Experience in using a crystal ball would be an advantage.
A thick skin; no wait, a very thick skin.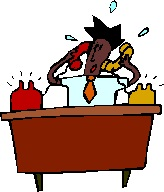 Key Responsibilities
For anything that goes wrong.
Running the Sales & Operational Planning process even though Sales & Marketing are not really interested and in fact, neither is the boss.
Explaining what all those SC initials mean – again and again!
Converting the Sales "forecast" in to something vaguely realistic and actionable.
For "lost sales" when Sales manage to sell 3000% over agreed forecast.
Closing the month with the required numbers despite the appalling forecast and the month-end sales peak.
Delayed launch and promotion introduction despite Marketing failing to adhere to one single deadline.
Accommodating each and every sku introduction.
Storing the obsolete, failed launches, old promotions, gross overstock and slow moving stock.
All write offs and stock losses.
Pay and Benefits
You will be remunerated well but lower than colleagues.
Your medical benefit subscription will be the most used of the entire company.
Career advancement is very difficult and you will be overlooked for any GM or CEO opportunities.
Next Steps
If you are interested in joining one of the worlds's biggest companies then please check out our other Supply Chain humour here.
(Internal HR note not to be published: If nobody applies please remove the requirement for experience.)