Why don't people just do what they say they will do?
This, in a nutshell, was the substance of a discussion I had last week with a senior supply chain executive of a Fortune 500 FMCG multinational.
It is also similar to many conversations I have had down the years with executives disappointed with the extent to which change has occurred as a result of multi-million dollar change programmes.
I will describe this particular case by paraphrasing our discussion:
Supply Chain Executive (SCE): "We have just completed a global convergence project. It has cost several millions of dollars. In addition to an SAP upgrade, it also aligned our global and regional S&OP processes.
I have just completed a tour of my region (Africa Middle East). I am very disappointed about the lack of progress with the S&OP project. In summary, people, including senior management, are just not doing what they are supposed to be doing. They all signed up to the programme but are not complying with the new global standards that have been agreed.
Why is this & what can I do about it?"
Michael Sympathetic Ear (MSE): "What is happening? And what is not happening?"
SCE: "It's a mixed bag. In some Operating Companies (OpCos), the process is in place but at a very superficial level. For example, key meetings seem to be happening but I know that key operational decisions are being taken 'behind the scenes'. In some OpCos, key parts of the process are not working well or are totally absent. In other OpCos meetings are not taking place at all."
There followed a discussion of how the programme had been conceived and rolled out. It is true to say that some of the key levers of change management had been overlooked, notably in the failure of true engagement with senior management prior to and during the programme, and in the absence of proper involvement of operational management in deployment.
However, the question is - what should this senior executive do to address the current situation given the current situation?
I return to our discussion:
Mike Sympathetic Ear (MSE): "What processes have you put in place to ensure monthly compliance?"
SCE: "The main reason for my tour was to check implementation progress."
MSE: "Yes but what about an operational process undertaken at local level to check compliance?"
SCE: "Nothing operational as such."
MSE: "Well there is something you can address straight away. You need to understand what is actually happening (or not happening) on a routine monthly basis. A tour by senior management will only give a 'snapshot' at best.
SCE: "Ok. How do we do that?"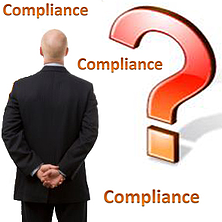 MSE: "Use your Supply Chain Operating Model (we had established that one existed & that it was sound and documented) to create a checklist of monthly activity. Subdivide the list by key activity (e.g. Demand Review, Supply Review, Financial Evaluation, etc). Define for each activity what constitutes compliance. Assign a local process owner to each key activity (this had in the most part already happened) and make them responsible for formally reporting compliance each month. Include a short narrative on status and future improvement. Keep it simple – i.e. it should take no more than 10-15 minutes each month for a process owner to complete."
SCE: "That could get resistance. Management are very busy. They may think it's a bit 'Big Brother' with Head Office checking up on them."
MSE: "If they complain about either, something else is probably wrong. In that event, you need to understand what the 'something else' is. Let me be blunt. You spend millions on a new convergence project, a key component of which is clearly not working. Surely the very least you should be doing is checking that people are doing what they signed up to do."
SCE: "Fair enough. Sounds like it's worth a try".
Compliance checking is a key part of project monitoring and evaluation. And it is not difficult to do.
Enchange has developed compliance tools that can greatly help the process. If you would like more information, please do contact us.

Read other posts regarding Compliance HERE.