The CEO listened while the Commercial Director & Supply Chain Director tried to reach an agreement during the monthly S&OP meeting. Not only was he disappointed to hear a version of the same arguments from previous months ("we are short of stock this month" ..., " we had too much stock last month" ..., "unexpected order" ..., "we don't have the raw material"..., etc), he was aware that many of these issues would have been resolved by better process & agreement at the pre-S&OP meeting.
"Let's go ... this is supposed to be a sailing holiday ... we've already been here for two days ..."
"Please can we stay for another day ... we haven't been to Decathlon yet (French sports retail shopping chain) ...",
"Why can't we go to Aqualand?",
"If we don't leave by tomorrow, we may not get back to Port Napoleon in time ... remember the Mistral ..."
Mike tried in vain to reconcile the conflicting demands of the crew (and keep them satisfied, let's not forget) with the need to get the boat back to port & keep everyone safe. How could agreement be reached?
Finally, after two & a half hours, a consensus was reached. The production plan was revised in favour of the new order, in future raw materials would be ordered in anticipation of the tender award (a review revealed that the same tender had been awarded 85% of the time in the past 5 years) & the tender process would be totally redesigned ("let's find out what is best practice") & integrated into S&OP. The S&OP meeting finished with everyone in agreement if not totally satisfied.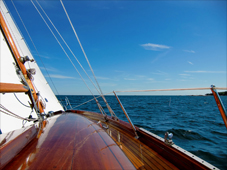 Dinner finished with a plan to leave tomorrow morning, head east back towards Port Napoleon & visit Decathlon at the next port (by bus), provided we left early. Aqualand would have to wait for another year; after all this was supposed to be a sailing holiday.
Consensus broke out in the Board Room & on board.
***
Similar articles:
Image credit: stock.xchng