"... and another thing ... they're all paid millions ... and now it's all over, they all disappear on holiday ..." (leaving us to pick up the pieces of our shattered dreams is the unspoken message).
And so continues another England footballing obituary, one of thousands uttered in the trains, offices, corridors, waiting rooms, air waves of England & beyond in the aftermath. This one was, with no small amount of passion it has to be said, with by my new friend on the 07.25 to London Victoria on Monday morning.
" .. I wouldn't mind", he continued, "but look at all the people they have let down .... the fans who have spent all that money on trips to South Africa .... fortunes ... 1,000's of pounds ...."
So I thought I'd wait at least another day to let the angst subside. A period of reflection was needed. Let the anger drive some wisdom. A more considered view would emerge. Well it hasn't.
England were just not good enough. That's it.
Forget the excuses of tired players, inept coaches (we've tried a succession of English & overseas versions), players in the wrong position, injuries etc, etc. My view (for what it is worth) is that as long as club football & the Premier League run the show in England, it will remain thus. England wants club football more than a successful national team because .... that's where the money is. Until that changes, the dreams of national glory will remain just that - dreams.
So let's move on & enjoy the remainder of the World Cup.
But something is missing - other than England in the quarter finals that is.
I had hoped that some more of the African nations would make it past the group stage; now Ghana carries a continent's hopes.
But it's not that either.
After the 11th July when the show leaves town, and the memories fade, how will things change for most South Africans? How will their lives have been enriched?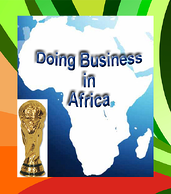 Which brings me back to my new friend on the train. While he was (rightly) sympathising with the causes of disenfranchised English travelling supporters, I could not help wondering about the locals who couldn't afford a ticket. Many of these people would have watched the football on a local big screen only to return to their reality of slum-living, sanitation-free desperation later that night.
What has the World Cup done for them? Such thinking is maybe where the wisdom should be.