The inevitable post-match, post-mortem. A bunch of lad's dads extolling wisdom & virtue on a Sunday morning after the night before. What was Capello thinking about? If we can't beat the USA, what hope is there? Green the villain; Green the unfortunate; Green the .... take your pick.
When the lad's started their cricket match, it was not enough to distract the dads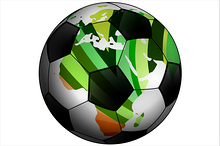 & so we continued trying to put the football world to right, thus ensuring that England could indeed still win the World Cup & the USA 'warm-up' was in fact a much needed wake-up call.
That is until someone started talking about Africa.
"Did you see the Jonathon Dimbleby programme about his trip through Africa? ... Great wasn't it? .... would love to visit .... take the kids ... open their eyes ..."
Having worked in Africa since 1993 & been fortunate enough to live in Kenya for 3 years in the 1990's, I couldn't resist. Off I went. The places visited. The countries in which we had worked ... no it is different in Nigeria ... . The stories. The expert expat.
It turns out that his friend is about to be posted to Kenya & wondered what it would be like.
On we chatted. I was reminded about what it was like when we first arrived - I started a Supply Chain consultancy business in Kenya. It was a wonderful adventure, full of colour and full of frustration.
I was also reminded about a paper that I had written & presented to an audience in Washington about living & working in Africa.
"Tell you what", I said to my new friend. "I'll dig it out & send it to you". And if your friend wants to chat about it ...."
The boys won by the way; their cricket match that is. And so the world was good again as we left the cricket ground & headed for a BBQ in the afternoon & another chance to put the football world to rights as the Sunday papers reminded me of Saturday night ....
If you would like a copy of "Doing Business in Africa", two pages that I hope still contains some wisdom, complete with a snappy acronym .... CLICK HERE.
Interested in doing business in Africa?
Read more here!
Image credit: stock.xchng