Hello pop pickers, here is this weeks' top 10 smash hits in this important but often forgotten part of the FMCG Supply Chain.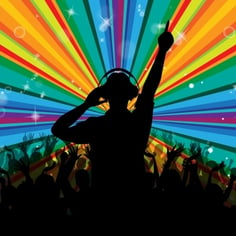 At number 10 is All Systems Go by Donna Summer – Do not cut costs on your Warehouse Management System (WMS) and avoid any untried local "specials". Make sure all stakeholders are involved in the design specification at an early stage to avoid costly and "least worst" bolt-ons later.
Staying at number 9 is Prodigy with Out Of Space - Ensure your chosen Third Party Logistics Provider (3PLP) has sufficient space or can expand to meet your growth expectation. If your 3PLP offers you a site which is boxed in and cannot expand then walk away!
Old favourites Smokie with For A Few Dollars More lie 8th – avoid the temptation to accept the lowest 3PLP quote, however tempting. Cost is not everything and if you bite on the low quote you will probably pay for it in the long run. Evaluate 3PLP offers thoroughly including which staff they intend to deploy on your business. Also, is it really cheaper and more efficient to outsource your logistics capability?
Up And Away from the Banned of St Trinians pops up at number 7 this week – your fast moving, profit generating brands should be on the floor or lower racks to facilitate picking. Those slow moving or seasonal items (in that case why do you have ANY stock?) should be on the top row and up and out of the way.
Alliyah bringing us Age Ain't Nothing But A Number stays at number 6 – your WMS must be capable of carrying out stock ageing analysis to prevent losses from expired products. If age analysis is not carried out you will lose sales when you realise your "stock" is not actually suitable for legal sale.
Holding steady at number 5 is Counting Every Minute from Sonia – if you want to avoid a severe financial shock at the end of the year then you must take responsibility for ensuring stock is accurately counted. In addition to statutory fiscal counting you should activate routine cycle counting to ensure your data retains accuracy. Secondly, if you see a stock mismatch early enough you may be able to rectify this before memories fade and time moves on.
Keep On Truckin' by Eddie Kendricks sits at 4 this week – whether you chose electric powered narrow aisle or standard FLT's do a simple check and ensure battery type are interchangeable across the fleet AND sufficient extra batteries are available to ensure 24/7 coverage. Surprisingly, idle FLT's are a common sight when battery budgets have been cut. (They only seem to run out of power when it is busy. Right?)
Sittin' On The Dock Of The Bay by Otis Redding begins the top 3 countdown – how many loading bays does your 3PLP have or propose for a new build? You have to get stock in at the same time as you move stock out. The almost inevitable month end bonus push from Sales will expose a simple lack of doors and bays.
Living In A Box by the delightfully titled Living in a Box is at number 2 – forgive my indulgence. I think this is a great Supply Chain themed song so it gets in!
It Takes Two Baby by ageing rockers Rod Stewart and Tina Turner leads the warehousing chart this week – do not assume your 3PLP knows enough about your business to leave him alone on a day to day basis. You need daily discussions to resolve operational issues plus monthly performance reviews at an appropriate senior level. Get yourself an office in the 3PLP premises and work hard at the relationship on a daily basis.

Images courtesy of Stuart Miles at FreeDigitalPhotos.net and Enchange Ltd.