I have written about supply chain and route to market interim management recently. In discussions with clients, the following theme often arisess:
"We are very busy … Too busy to make progress ... I suspect that we need some additional support in the short term … What do I do next?"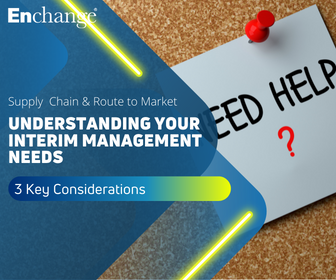 So in response, I suggest that the following needs to be considered:
Role, Tasks, Competency.

Start by considering the interim role that you have in mind. What tasks need to be undertaken? What level of competency is needed? What is the level of seniority of the role? Looking at a person specification, what qualifications, experience, knowledge is essential? What is desirable?

Workload.

Next you need to make an estimate of likely workload. If the need is genuinely short term, you should have a good feel for the gap that needs to be filled in terms of people. Is it one full time equivalent (FTE) person that you need? Two FTE?

Timeframe.

Remind yourself of why you believe that short term resource is needed. If it is genuinely short term, for whatever reason, make an estimate of the duration of the need. The likely minimum need should be three months. This is because it will take some time to brief and ensure that an interim manager has the local knowledge to contribute properly in their interim role and to get up to speed. Also interim management placements of less than three months are difficult to fill. For anything under three months, try to find a workaround solution with existing staff – for example, a project that is demanding on resource can have time lines changed. Alternatively, if you cannot see an end to the resource need, it is likely that the need is more permanent. If so you have a recruitment need.
When you have a good understanding of the above, you can commence your interim management search.
Supply chain and route to market interim management solutions will always be an invaluable cost-effective way of augmenting your organisations capability.
If you need any help on supply chain or route to market issues, including interim management, please reach out to us.