The Enchange Supply Chain House; the one-stop shop for all of the elements you need to achieve supply chain excellence.
In successful FMCG companies, Sales & Operational Planning (S&OP) is the flexible glue that holds processes together, ensuring demand and supply are balanced along the chain and most importantly, sees everyone operate with the same information and one set of unambiguous sales, volume and financial numbers.
There is currently enough disruption and discontinuity in supply chains without the necessary evil (or pleasure) of New Product Development (NPD) and a stream of product changes getting in the way of S&OP. Just when everyone has become used to ordering, storing, picking, delivering and merchandising that nice looking blue bottle with the picture of a carrot on the adhesive label, someone decides it is a good idea to relaunch. Probably for very good reasons the label will be changed to a hi-gloss, shrink-wrap label featuring the image of a potato.
The vegetables of choice are inconsequential as I just wanted to highlight what is possibly a subtle marketing tweak but a huge challenge and discontinuity for others. From Sourcing, Planning through Make and into Deliver, this 'little creative adjustment' means a huge amount of effort for the extended supply chain.
If your business operates a classic innovation funnel then well done to you. However, if you do not run one at all or you do and it is not linked to S&OP then you run the very real risk of:
Out of Stocks and some real, unrecoverable lost sales.
Poor Customer Service and the related disruptive noise from clients.
Overstocked inventory of SKUs you cannot or do not want to sell.
Write-off and destruction costs which will include VAT in many territories
Wasting the NPD and ATL/BTL financial investments.
Losing your job.......
NPD is a critical part of Demand Review discussions as they shape the future demand for items which may not yet be on everybody's radar. While the RtM team should define the demand for months 1, 2 and 3, marketing should be responsible for generating the estimates for the succeeding 3 months, depending on the level of S&OP maturity. With NPD out of the S&OP loop, you are on your way to item 6 in the list above!
The NPD funnel is not rocket science although some people consider an "innovation rocket" to be a far more effective tool for continuous growth. The funnel (or rocket) can be depicted in many ways but all are very simple, e.g.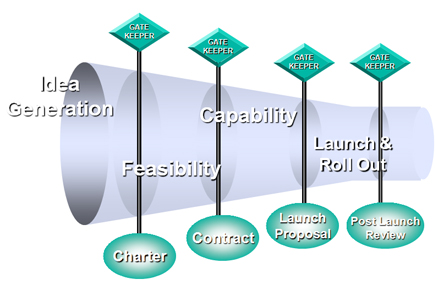 At each decision gate the relevant NPD leader must feed information into the S&OP process to avoid the pitfalls listed above. Existing stocks can be run down in a controlled manner and new stocks ramped up to ensure continuity and more importantly, correspond to any breaking TV or other advertising campaign. Is there a bigger waste of marketing budget than appearing on TV when the product is not yet available for consumers to buy?
Inevitably, you may absorb some write-off costs when you relaunch or make a product change but as long as you co-ordinate within your S&OP process these amounts can be minimal and manageable. What the CEO/CFO do not want is an unexpected financial loss from write-off appearing in the results unexpectedly. Marketing might well claim a successful launch but the profitability could be shot to bits and actually be negative for some time once obsolescence costs are understood and allocated.
Depending on your accounting convention, the cost of write-off and other avoidable obsolescence costs will end up in 'supply support' or 'supply chain others' when in fact the funds should be deducted from the relatively fat marketing budget. If marketing people do not manage the innovation or change process closely within the rigour of S&OP then they should feel some of the pain. Far too often they crack open the celebratory bubbly while inflicting pain and extra work on colleagues - not the competition, but colleagues!
Change is inevitable and supply chains have to continually manage change as it will not and should not go away. However, wouldn't it be a refreshing change of a different type if all departments fully, I mean fully bought into the company S&OP process?
If your NPD programme is expected to power growth and profit, make sure it is plugged in!
Read more articles on Supply Chain Excellence and Route To Market on our website where you can also subscribe to our frequent updates.
Finally, feel free to use any of our contact routes including Live Chat, if you have any questions about how the Enchange Supply Chain House can assist your journey to supply chain excellence.