The Enchange Supply Chain House; the one-stop shop for all of the elements you need to achieve supply chain excellence.
Previously, we discussed the top 10 potential advantages of finding a 3PLP partner. which can bring benefits of cost, service and ultimately, higher sales. Outsourcing can be straightforward but a little extra care and knowledge will ensure you achieve the best warehousing and/or transport solution for your business and importantly, reliable and high customer service.
(Just a quick reality check, is outsourcing right for you? Before embarking on a complicated and potentially disruptive project are you convinced your in-house operation is unsuitable? Think long and hard about outsourcing or you could become trapped in a long-term relationship with someone who may not care about your business as much as you do.)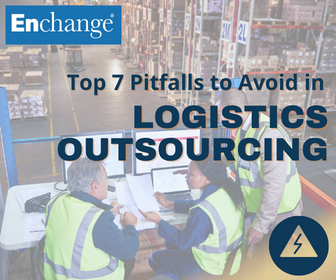 Assuming you have taken the correct best decision for your business, let us look at 7 Pitfalls to Avoid in Logistics Outsourcing.
Project Leadership. Appoint a leader from outside of the Supply Chain team, e.g. Finance. This will promote impartiality and in any case, many key debates will be in the Finance area. For complete impartiality, you might consider hiring an experienced Interim Logistics Manager or Consultant who has no long term interest. All contenders will be trying to pick up snippets of advantageous information and you must not compromise the tender process in any way.
Qualification. At an early stage get an idea for which companies are likely to be interested in being your 3PL partner. Do not be surprised if your list is small but you should aim for 8-10 contenders in the first sweep. Contact these companies with a questionnaire asking them to outline their capabilities, pedigree and reputation in your sector/geography and follow this up with face to face meetings where you can probe their submissions and get a better feel for competence and commitment.
Costs. Outsourcing is not always about cost reduction but the costs of the 3PLP contenders will obviously be a major factor in the final decision. Ensure you know your accurate current costs for the entire service you are expecting the 3PLP to provide. This is a crucial activity as you need transparency on your own cost structure to make a valid and meaningful comparison before committing to any 3PLP and vice versa.
Time Expectations. Avoid cutting corners or rushing the process despite the pressure from above (and below) to make a change. You will be reliant on your 3PLP to support your business from day one so make sure a timetable is agreed with all stakeholders, including your own supply chain people. Once the process is complete, the changeover should take place in a slack period so avoid your seasonal peaks and major promotional campaigns.
People. If you are outsourcing your existing in-house Logistics function, then you are either going to make staff redundant or you will be looking for the new logistics partner to take those staff on board. Either way you must treat people in the best way possible or your service levels could suffer as you make this difficult change. The tender process will not be a secret however hard you try and your people will be obviously nervous. If you are making staff redundant you must keep them fully informed at each critical step. Why not consider an escalating loyalty bonus linked to performance and longevity? If existing staff members are offered the opportunity to join the 3PLP then it is your responsibility to ensure terms and conditions are fair. If budgets allow, it is wise to build 'parachute' agreements into the new logistics contract ensuring existing or agreed terms and conditions are maintained for a defined period.
Capability. Be wary of well-meaning distributor partners trying to step up to the mark as a 3PLP partner. Do they really have the experience and infra-structure to provide a top class service? If they are already involved in your Route to Market, do you need so many eggs in one basket? Similarly, beware of any of the big names who are not present locally but 'expect to be soon.' This means they are unlikely to enter your market unless they get your business and you will not appreciate being their latest guinea-pig!
Start-up Phase. Ensure your tendering process includes a clear understanding of what will happen as the logistics responsibility transfers. Are their operating licenses in place? How soon will KPIs be at the required level? Does the 3PLP have the necessary staff with relevant skills, e.g. narrow aisle FLT drivers. Do they have extra FLT batteries that can be exchanged to maintain the operation 24/7? Has the WMS been robustly tested? Do they have sufficient trucks and drivers? Even big name 3PLPs make elementary mistakes at this crucial time.
Avoiding these Top 7 Pitfalls will help you move through the all-important implementation phase to a steady business state without painful surprises.
Finally, 3PLPs are very slick at securing new business but some are not particularly good at keeping it! We will look at managing 3PLP operational expectations in a later article.
What's next?
Read more articles on 3PLP management, Supply Chain Excellence and Route To Market on our website where you can also subscribe to our frequent updates.
Finally, feel free to use any of our contact routes including Live Chat, if you have any questions about how the Enchange Supply Chain House can assist your journey to supply chain excellence.