The Enchange Supply Chain House; the one-stop shop for all of the elements you need to achieve supply chain excellence.
The end of the year approaches and some things never change! The same supply chain and business challenges are popping up and what is surprising is that companies are still making short term, expensive decisions without understanding the wider implications.
Despite COVID continuing to circulate, there is growth in the market but those green shoots of recovery are still relatively small. If COVID taught us anything it is that supply chains must be better understood, properly funded and increasingly agile to cope with disruption and change.
Let us take a look at what is left of 2021 and the likely maximum of 18 operational days in December. You can do a lot of good in that time but if you make some bad supply chain and corporate decisions you will see repercussions in Q1 2022 and beyond.
What supply chain and related actions should you consider over the final few weeks of the year to remain sensibly competitive now and into 2022?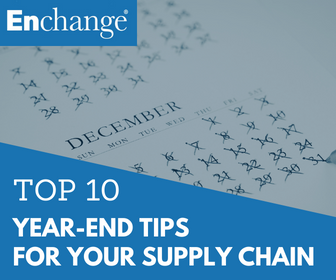 Do not load the trade. One thing you may consider if sales are not going well is to fall into the trap of loading the trade. Discounts and extended terms are given, favours called in and hey presto, the required target number is achieved. You have pushed so much stock into the trade that distributors are short of cash and friendly International Key Accounts platforms are overstocked. In short, you have sold some of Q1 2022 demand.


Annual stock-count. A legally required count is unavoidable but also critical for the company and specifically the supply chain to reset stock accuracy. This activity must be planned well in advance and not as an afterthought prompted by the finance team. The responsibility for counting is shared but at the end of the day a good process will support your S&OP efforts.


Do not over-promote. Consumers simply do not have the money to prop up your annual plan and what money they do have is likely to be rationed to be sure of a reasonably happy Christmas. Remember, consumers owe you nothing, not a penny! Poorly planned, last minute promotional activity places further strain on supply chain resources when efforts should be focussed on what was previously agreed in S&OP. Last-minute tactical activity is usually an expensive and wasteful knee-jerk.


Supply chain downtime. We all need to recharge batteries after 2 years of masks, jabs and lock-downs but can you really afford your supply chain to be dormant for 2+ weeks? People start taking their eye off the ball well before the holidays and starting up again in January can feel like you are walking through treacle. Think about stealing a march on your competitors by keeping your supply chain operating at something like full capacity. Remember, the supply chain has to deliver goods for sale in January.


Maintain S&OP meetings. Yes, the timetable will be compressed in December but skipping meetings at this critical time is dangerous. Year-end holidays are fixed so S&OP meetings should be in diaries well in advance. Meetings may well merge or occur quickly one after another but the standard processes should be allowed to happen or January (at least) will be problematic.


Make provisions. Those pallets of damaged/returned goods that have been sitting in a dusty warehouse for months. The raw and packaging materials made obsolete by your NPD program. The outstanding conflicts you have with customers and 3PLPs on shortages, shrinkage etc. Do not let these issues fester as one day they will hit your books and a surprising financial hit can often be career limiting. Work with the finance team to make prudent financial provisions, now. Some may be reversed but at least you are prepared and 100% transparent.


Training plan. Frequently one of the first budgets to be cut if the financial numbers are not looking pretty. However, in many companies and geographies the actual level of real supply chain knowledge and skills is relatively low. Employees value training whether it is general or function-specific and it is vital to reinforce the basics and keep pace with change in supply chain practises and technology. Hopefully you have already succeeded to get budgets included in the annual plan but you also need to get courses designed and booked. Booked courses are harder to cancel or postpone!


Finalise 2022 objectives. Company objectives for 2022 should be defined by now and if not, it is far too late! Personal objectives should be set for everyone, whatever their roles and seniority. Each personal target must support the corporate objectives and nobody should be working on anything that does not tick this box. You do not want people wandering around wondering what the targets are in January so be decisive now.


Supply chain design. As your business develops, you may need a different supply chain approach and/or structure. When you consider the discontinuity brought by COVID it would be foolish to assume your status quo is still the best way to do business and doing nothing will see you lag behind competition. You assess your approach with internal or external assistance but do it you must.


Remember to celebrate. Whether you celebrate the year with an expensive party, a modest gift or simply encouraging words, make sure everyone knows their contribution has been appreciated throughout another difficult year. You need them fully on board in 2022.
Are you ready for the end of 2021 and the start of 2022? Others will be!
Read more articles on Supply Chain Excellence and Route To Market on our website where you can also subscribe to our frequent updates.
Finally, feel free to use any of our contact routes including Live Chat, if you have any questions about how the Enchange Supply Chain House can assist your journey to supply chain excellence.