Recently, I introduced you to the Enchange Supply Chain House; the one stop shop for all the elements you need to allow your supply chain to operate effectively. Now is the time to take a deeper-dive look at what you need in place to obtain the best value from your Source discipline.
The previous overview article explained the differences between a simple call-off process, a more sophisticated purchasing operation and a partnership driven procurement approach. Whatever the level of supply chain maturity you desire or can afford, there are 10 basic elements which you must address to some degree.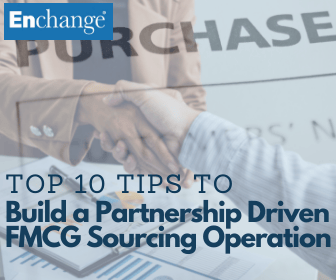 Source Policy. The first and most basic requirement. Is there is a concisely written Sourcing Policy that covers the purpose, process and participants in the function? Is this policy widely circulated to avoid any doubt in the team?
Sourcing Process & Procedures. Do not leave any room for doubt about the desired ways of working particularly for new recruits and internal transfers. Do written process and procedure documents exist for all sourcing activities?
Strategic Sourcing. An important approach for companies to maximise purchasing power to achieve the lowest possible costs and minimise supply chain risk. Do you have a demonstrable strategic approach to sourcing characterised by the long term development of supplier partnerships with supporting agreements?
Supply Key Decision Making. Do not let big budget decisions take place at too low a work level. Are decisions regarding suppliers and supply taken at an appropriate level within the organisation? Is decision making regarding suppliers and supply for large value materials elevated to and discussed in S&OP?
Supply Risk. One of your worst days at work may be when a key supplier declares force majeure. Is supply risk routinely reviewed (at least quarterly), evaluated and documented? Have you considered your options for alternative sources of supply and other risk mitigation strategies and measures?
Supplier Performance Management & Service Level Agreements (SLAs). Your suppliers will probably measure your performance and you should repay the compliment. Do you have an established and effective methodology for monitoring supplier performance? Is this supported by SLAs for the vast majority of suppliers? Do suppliers actively contribute to the process of SLA definition and execution?
Supply Cost Management. Purchasing price may well be a prime driver but this does not expose all of the costs of a supply decision. Do you measure the key KPI of overall cost to supply your business from the supplier network?
Call Off Supplier Relationships. Call-off in any level supply chain maturity is a basic yet critical process. Have supplier partnerships been developed with Call-off Suppliers and are these characterised by trust-based, proactive relationships for the majority?
Procurement. A step-up from call-off which requires a robust and effective procurement process. Are order visibility and tracking in place and effective? Is adequate control maintained at the time of order, receipt and payment with each activity segregated within the organisation? Are purchasing authority levels in place and effective?
VMI Supplier Relationships. Vendor Managed Inventory partnerships are typically characterised by trust-based, proactive relationships. Are supplier collaboration processes and procedures in place and effective - i.e. producer problems have not simply been moved to the supplier?
Addressing 1-10 in a well-planned and controlled project will ultimately pay dividends for the extended supply chain and your FMCG business.
In the next article we will look in more detail at the Planning specifics you need to achieve FMCG Supply Chain excellence in support of your Route to Market deployment.
Read more articles on Supply Chain Excellence on our website where you can also subscribe to our updates.
Finally, feel free to use any of our contact routes including Live Chat, if you have any questions about how the Enchange Supply Chain House can assist your journey to supply chain excellence.