The Enchange Supply Chain House; the one-stop shop for all of the elements you need to achieve supply chain excellence.
Are you considering outsourcing your in-house logistics operations? If your core skills are far removed from those required in this supply chain function then this can be a sensible decision. However, you should also consider IF the available third parties are really up to the job. After all, they are your extended image to the customers. However, before any potential 3/4PLP outsourcing project there is an important preparation step.
To avoid finger pointing after 3PLP selection and service commencement, it is important to gather the views and expectation of key stakeholders. This will ensure the tender documentation, the process and the final decision on a partner are closely aligned to needs and expectations.
Within even small FMCG company board teams, motivation for outsourcing will vary widely. Some parties may appear uninterested and on the periphery of the process only to start sniping once performance and cost reality kicks-in. Others may show an unhealthily close interest which may be indicative of a hidden agenda.
This table shows where priority interests may lie across the senior management team and with customers. As leaders they should all be aligned behind the project and rightly consider all benefits important but inevitably there will be functional priorities.
Top 10 Benefits?
Of course, everyone in the team should be aiming at total company excellence but in reality this may not happen. If Harry Kane scores a hat-trick of goals and his team wins 3-2, does his manager worry too much about the defence? Similarly, lower working capital will excite the CFO but may well be met with a vacant stare from Sales & Marketing colleagues. Customers will not be interested in the success (or otherwise) of your internal mechanisms as long as your customer service is good and the NPD funnel is well stocked and reliable.
Should your company team have moved through the 'forming, storming, norming' phases into 'performing', you will be in the enviable position of being capable of achieving excellence in all areas. However, few are at that stage so an understanding of priorities and expectations right at the start of the outsourcing project will pay dividends.
There is no guarantee any outsourcing arrangement will achieve one or more of these benefits but each is possible to some degree.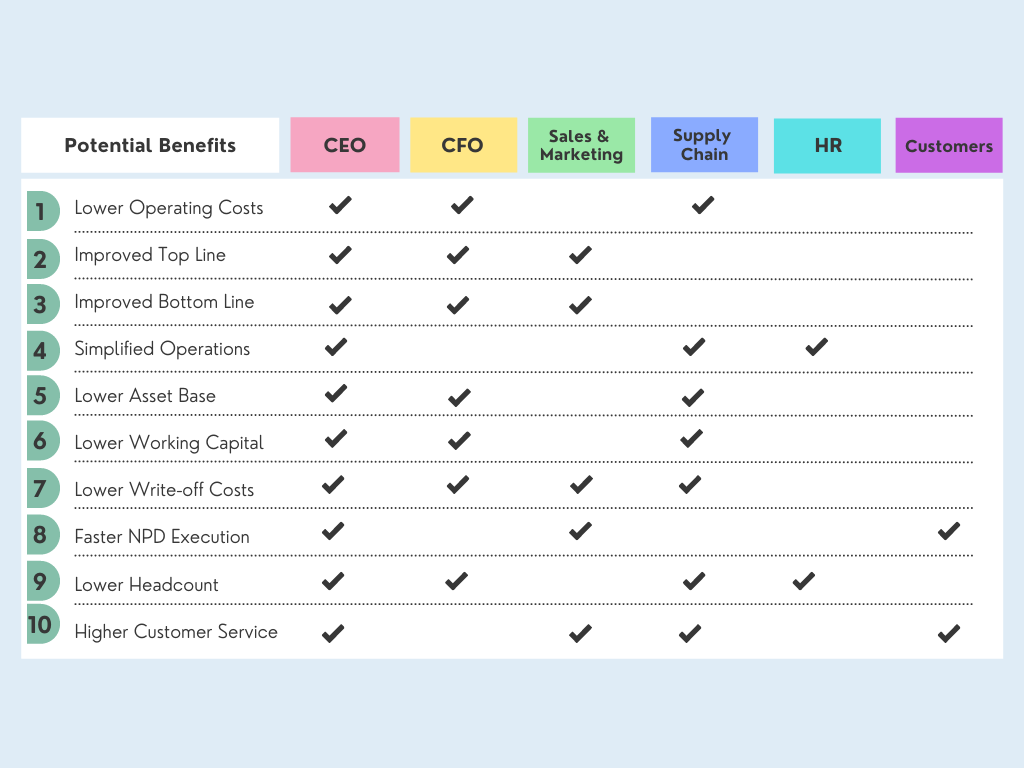 As you can see, with the exception of the CEO, individual functions may have quite different expectations from outsourcing logistics operations. As stated, the senior team should be working for the best all-round company performance but these are the benefits at the core of their functional expertise.
Managing these various and often competing expectations will be an important task for the project team to avoid wasteful post project debate and mudslinging. Care though, benefits will not be delivered from day one so ensure the current and following year plans reflect a sensible phasing of project deliverables.
What does success look like?
If the project delivers broadly what was agreed after the stakeholder interviews and subsequent tender, there will be no place for board room dramas, out of kilter finances, demotivated staff or disappointed customers. Get it wrong and you face endless and acrimonious debates which ultimately divert focus and energy away from customer service.
Read more articles on Supply Chain Excellence and Route To Market on our website where you can also subscribe to our frequent updates.
Finally, feel free to use any of our contact routes including Live Chat, if you have any questions about how the Enchange Supply Chain House can assist your journey to supply chain excellence.