Fingers, toes and eyes crossed but it looks like there is some light at the end of the COVID 19 tunnel and it is not a train, hopefully. Getting back to normal is a top of mind desire for everyone but that normal will not be how we operated in 2019. Our new and probably ever changing normal is about to develop as plans for the lifting of restriction of movement appear around the globe.

COVID 19 has impacted all aspects of life and not least, Supply Chains. The Supply Chain challenges of the last 18 months cannot be over estimated as people and producers bent over backwards to maintain supplies of various goods under stressing conditions. Now, as we see that glowing ember of tunnel light, is your Supply Chain ready to go again at full speed?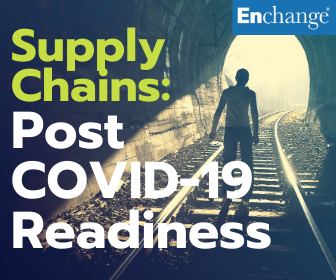 While you have maintained operations under testing conditions, do not expect to "dust" it all off and quickly revert to excellence or whatever adjective is applicable in your case. COVID 19 has impacted on everything including your RM/PM suppliers, your 3PLPs, your factories, your people and not least, your customers.
Not all Supply Chains were operating under reduced activity. The unprecedented demand for cleaning, hygiene and virus protection products has forced some operations to increase production for what is an ongoing peak period which is not going to end soon. As lockdowns ease, you can be sure of extraordinary and sustained peaks for FMCG food and drinks as a degree of outdoor freedom returns. Can you imagine the ice cream peak in an extremely hot 2021 summer?
So, if you have been producing less than usual for an extended period, what difficulties might be waiting for you under that dust?
1. RM/PM Purchasing. Are they ready, do the Suppliers have your forecasts? When orders for specific Raw and Pack Materials start pouring in you may find a capacity constraint right at the source of your extended Supply Chain.
2. Manufacturing Capacity. Speaking of capacities, what about your own? Do you have the instantaneous manufacturing capacity to meet the surge from an unlocked lockdown? Has preventive maintenance continued during the pandemic? Will everything work?
3. People. Is the workforce ready for 3/4 shift patterns again? With some restrictions still in place, people may need time to ensure domestic arrangements are organised to cope with dependents. Does anyone need re-training?
4. Stock Levels. With demand suppressed you should have been operating at significantly lower stock levels. Do you have a reasonable forecasting process within S&OP to predict the new demand for at least your important A class SKUs? The last thing you need as you try to re-establish your market is a lengthy list of out of stocks (OOS).
5. 3/4PLPS. Similarly, are they ready to provide the services you need? Will they be stretched with other clients? Have they taken on new COVID 19 related work which may interfere with your business? You need to be sure, now.
6. Digital. Is your Route To Market still the same or even still in place? COVID 19 has certainly accelerated the adoption of online ordering over instore browsing and that may well have implications for your business. Find out.
7. BREXIT. Who can ignore this one? With all news channels focussed on the virus, BREXIT has been under the radar for many. Are your UK suppliers set up to export and are you and your UK clients organised to move goods and make timely sales under the new regime? Do not recover from pandemic chaos to be tripped up over BREXIT paperwork.
8. Demand Signal. Probably the most important which may be overlooked by many. Your 2020 demand history will be heavily skewed by the various lockdowns and travel restrictions. Your best bet may be to look at 2019 history and discount the 2020 spikes, troughs and not a lots!
Without doubt there are more potential pitfalls to consider in these difficult times. How you prepare now will provide valuable experience and guidance for the next crisis, which will come!