Christmas and new year holidays seem a long way behind. The decorations have been squeezed back into their boxes for another year and Slade, Cliff, Bing, Bowie and others are safely back in their CD cases. Turkeys around the world are rejoicing as much as the children who do not have to tackle Brussels Spouts for another 12 months.
As ever, platform 9 at London's Kings Cross station is a lonely place jam-packed full of people. Fellow commuters all with the same futile hope of securing a double seat with a table and a charging point nearby. A seat of any kind would be a bonus on your daily commute out of London to Cambridge on the 07.44 but at least this train will run and is on time. This must be the only form of transport globally where you can pay a premium seat price to stand next to a blocked toilet. Enjoy!
Blue Monday, even the odorous toilet spot has been taken so you are further relegated to the unheated bicycle area which must have been designed for Eskimos with unicycles. Settled as well as it is going to get, your thoughts turn to the new year ahead and the depressing expectation of the same old operational problems and challenges popping up. The slow chug-chug of the train brings the first lines of Bohemian Rhapsody to mind as an apt description of how you feel:
Is this the real life?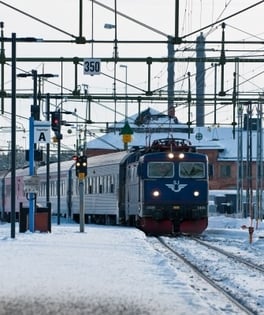 Is this just fantasy?
Caught in a landslide,
No escape from reality.
This sneaks into your head repeatedly even as the chugging slows and Cambridge eases into view. Time to snap out of it and get the business hat firmly on. At least the new ERP is in place and after a 3-month error-ridden ramp-up it should be ready to support the business a little better than the in-house, low cost, back of a fag packet version that lasted more than 10 years. There is a lot riding on this expensive ERP; this ERP will finally tell us what is really happening in our supply chain.
Well no, it will not.
Don't worry, you have not invested heavily in the wrong software. The ERP will do exactly what is says on the tin which is probably in the German language.
Thinking back to that train toilet, consider for a moment that your ERP is Imodium – a fantastic product which does exactly what it claims on the pack. You can trust Imodium to get you from A to B where B is not necessarily where you want to be but it is a place of distinct safety and comfort. Imodium does not tell you what went wrong inside nor does it tell you what to do differently to avoid the same effect at a later date. In short, Imodium slows down your business but doesn't tell you what is wrong.
What you need is some form of Supply Chain Analytics to sit on top of your ERP/Imodium – not a substitute. Your new ERP will have automated your usual ways of working but this seldom leads to huge improvement and often, performance visibly worsens with the increased noise and operator nervousness in the planning processes. Inevitably, the forecast takes the blame. The issues lie within the supply chain processes, the set-up of the IT systems and how add-on tools are being used. To protect themselves, your supply chain managers are buffering supply chains with unnecessary inventory and backside-protecting lead-times.
Analytics uses your data to analyse and diagnose what is happening in your supply chain by providing a suite of tools and dashboards to model the implications of your decision making. Achieving extra visibility across the supply chain inevitably delivers better service, lower costs, happier people and a supply chain that is easier to manage.
Analytics is transforming the way organisations improve performance and gain competitive advantage, every day. Even on those cold, wet Mondays when you are at the station contemplating another standing commute. Take a look at Supply Chain Analytics and you will find yourself with exclusive access to Kings Cross Platform 9¾ and we all know what magic is possible there!
Image courtesy of Poulsen Photo at freedigitalphotos.net