Why do you need this transformation?
If you:

Do not have well-defined and aligned procurement and supply chain strategy

Do not have strategically positioned procurement function

Do not have clear procurement roles and responsibilities

Do not have strategic procurement skill

Do not have KPIs, aligned with business and procurement objectives

Have functional silos and barriers between people and departments

Have disconnected, redundant, duplicated operational processes

Have insufficient level of automation causing repetitive and manual tasks

Have fragmented IT infrastructure / systems and information gaps

Do not have standardized tools & templates (e.g., supplier contract, NDA)
If your answer is YES to any of the questions above, then you need to transform your procurement function to re-gain its strategic position and to ensure efficient execution of processes.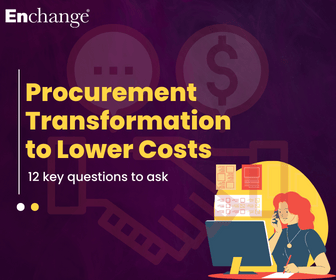 12 key questions that you need to answer when transforming your procurement:
What are the gaps in my current organization and processes in terms of bottlenecks, inefficiencies, and risks?

What is the required organizational structure including the category tree?

What is the required size of the procurement function?

Is there a role for outsourcing in procurement? What are these roles?

What level of cross-functionality is required? How to set-up cross functional teams?

What are the to-be operational processes?

What are the to-be strategic processes?

What are the supplier management processes?

What are the roles and responsibilities?

Which KPI's to monitor?

How to align procurement targets with other departments (i.e., production, sales)?

Is my organization ready for transformation and change? What is the level of readiness? What are the risks of this program? What is my mitigation plan?
Building blocks of procurement transformation:

What will you achieve after transformation?
Lower Total Costs: Lower the purchase price of goods & services, and assets including operating costs for their lifetime.
Maximize Speed and Quality: Streamline and digitize purchasing process starting from need identification until receipt of goods & services, and payment.
Improve Compliance: Ensuring that all parties procure with the terms and conditions outlined in the contracts, protecting organization from fraud and wrongdoing.


Next Steps
Do not waste time, start transforming your procurement to lower costs.
If you need our assistance, give us a call. use any of our contact routes including Live Chat,
The Enchange Supply Chain House can assist your journey to supply chain excellence.
Read more articles on Supply Chain Excellence and Route to Market on our website where you can also subscribe to our frequent updates.