The Enchange Supply Chain House; the one-stop shop for all of the elements you need to achieve supply chain excellence.
In a recent article we looked at the Top 10 Tips for efficient IT Enablers in S&OP. This latest article looks at what you need in place to make the RtM-SC interface a force for good and not a source of conflict and blame.
Do both departments fully understand the powerful benefits of working closely together? Is the RtM function aware that collaborating with the supply chain will increase sales and customer service levels? Think of all that wasted time and effort wasted by people defending personal agendas or scoring points off each other. Bang heads together, stop the sniping and work as a seamless team.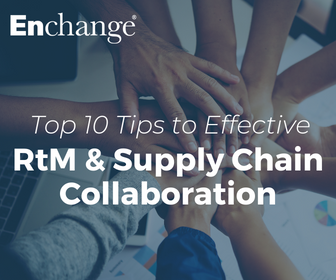 Top 10 Tips to Effective RtM & SC Collaboration
1. Functional Awareness. Do you provide training and awareness sessions to allow colleagues to understand roles in both departments? Is functional awareness included in induction programmes for new recruits and transfers?
2. Forecast Ownership. Is it 100% accepted and clear that the RtM team owns the forecast while supply chain will facilitate the generation of the same? Is the forecast provided in a timely manner for the purposes of S&OP?
3. Single Data/Information Source. Do the available IT Enablers provide a single, reliable and widely disseminated data source? Are you sure you are collecting relevant and accurate data? Is data translated into information and then actions relevant to both sales and supply chain?
4. Brutal Honesty. Are all participants in the S&OP and wider business processes committed to deal only with facts and not preconceptions and departmental bias? Does everyone understand that success will only come from open and brutally honesty collaboration?
5. Aligned/Shared KPIs. Do the RtM and supply chain departments each have a set of functional KPIs? Are these supplemented by a number of shared KPIs which will drive collaboration and success?
6. Customer Care. Do you involve supply chain colleagues in face to face discussions with clients to receive direct feedback on failures and equally, success? Is there a Customer Care or similar cross-functional organisation to receive routine client feedback and more importantly, coordinate actions and problem resolution?
7. Early warning - Market Intelligence. Do you have a system supporting feedback of competitor tactical and strategic moves in the market? Does the RtM call protocol include the need to report on competitor activity?
8. Early warning – Supply Constraints. Do you have an early warning system to advise at least key clients about product shortages or order delay? Do clients find out about product supply problems only AFTER the short order has been delivered?
9. Innovation Awareness. Do your New Product Development (NPD) processes include involvement of RtM and supply chain colleagues both at an early stage of development and BEFORE commitment to market? Have you ever promised clients or invested in an advertisement campaign without the new products being available?
10. Sharing Success. Do you celebrate success widely and include all departments? Is market success only credited to RtM colleagues?
In companies where genuine collaboration and free flowing and honest interchange is the norm, they have a far greater opportunity for in-market success. Blame-storming and silo behaviour simply wastes time and energy and thoroughly demotivates all parties while making competitors chuckle.
Read more articles on Supply Chain Excellence and Route To Market on our website where you can also subscribe to our frequent updates.
Finally, feel free to use any of our contact routes including Live Chat, if you have any questions about how the Enchange Supply Chain House can assist your journey to supply chain excellence.