Wow, four years have flashed past since the London Olympic bunting was packed away and the metal polish put back under the sink. The 2016 Rio games are well and truly underway and the cauldron flame is alight for the duration.
Over 11,000 competitors from nearly 200 countries and even a refugee team have been getting up ridiculously early to sweat and train at whatever sport they excel. That is a huge number of really fit people who are focused on being in peak condition for a once in a lifetime event that might last less than 10 seconds or several hours.
Taking the 100m sprint as an example; the top sprinters will have 4 opportunities to perform. A combined window of 40 seconds to reflect all that money, time and effort that has been expended to qualify and perform to the best of their ability. What if they stumble or don't hear the starting gun, drop the baton or worse still, get disqualified?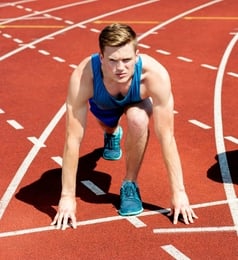 All that planning and careful preparation to get to the final of the competition only to be disqualified for being a little twitchy waiting for the starting pistol to crack out loud. Or, sticking your foot just a millimeter into the triple jump plasticine. Hey, don't worry, there will be another chance for you in Tokyo………
You are not in the final to perform in front of millions of people watching around the world. Nobody will see you perform and instead of your stock rising and attracting more lucrative advertising deals you will be remembered as that poor guy with the twitch or that girl with the too-big training shoes.
Cue segue. The global economy seems permanently stuck in "weak and unpredictable" performance mode with no obvious way out even for the dis-United Kingdom of Brexit. Imagine you are a yellow CEO Pac-Man (do they have female Pacs?) nibbling away at the dots and then getting stuck in a dead-end. What next, nowhere to go, panic, panic! Despite this, many CEOs will be under extreme pressure to "make the numbers". How exactly? While all this Olympic activity is taking place is your physical FMCG stock rising as we move through the second half of the year?
Despite what sales and finance colleagues will spout, there is a limit to how much stock can you push into your trading channels and this includes International Key Accounts. Coercing (or more likely forcing) a distributor to take more and more stock may appear an easy option but it is an unsustainable action that damages your business in the long run.
At some stage a brave CEO has to say enough is enough and start a period of controlled destocking despite the effect this will have on top and bottom lines. Loading the trade does not happen by accident; you know you are doing it so stop deluding yourself and HQ and do something! Put a stake in the ground that sets the tone for the future.
You may believe that excess inventory means you will never be out of stock or off the shelves but this is not the case. The available stock will inevitably be unbalanced and just when you expect your long planned relaunch to fly out of the blocks and hit the shelf you also twitch and realise you have 9 months' stock of the old product sitting in distributors warehouses.
What a disappointment. A waste of money, time and effort, i.e. an Olympic gold medal-sized goof and HQ is unlikely to give you another chance in a lot less than 4 years' time.
Image courtesy of stockimages at freedigitalphotos.net