The Challenge

A leading global FMCG company undertook an aggressive supply chain improvement programme across 150 markets. The objective was 100% alignment of worldwide operational activities with company strategy and objectives. Not an insignificant task!

The Problem

The organisation routinely calculated and published multiple KPIs and targets, but a lack of data integrity, accessibility and insightful reporting limited supply chain progress. Data was 'scattered' across multiple sources including enterprise ERP, market ERP, multiple factory systems and MI systems. No shortage of data but a severe dearth of insight and information.

In several markets, the organisation was suffering from volatile and highly variable short-term supply chain plans and an excess of finished goods inventory, despite a stable and predictable consumption. The ways of working within the supply chain and the interactions externally were traditional, with operating practices and decision making analysis unchanged for far too many years.

The Solution

Engagement with key stakeholders across the business established the corporate need and critical success factors for the analysis. A Toolset & suite of SKU-level Dashboards was developed, focussing on demand, planning, materials, production & execution. Company data was extracted into the toolset to provide information leading to appropriate actions. New monthly reporting and analysis revealed significant inventory reduction opportunities and importantly, operational management had the confidence to drive the required changes with a far greater understanding of potential outcomes.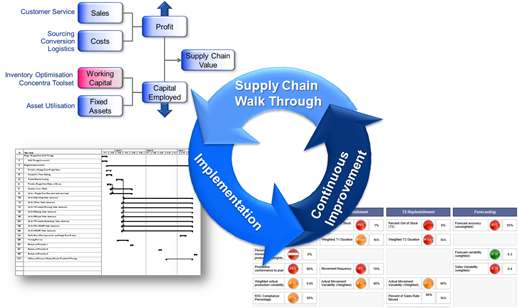 The Winning Tool
SupplyVue is a revolutionary supply chain analytics solution.
SupplyVue uses existing data to analyse and diagnose problems and successes in the supply chain.
SupplyVue provides a suite of tools and dashboards to model different inventory, financial and service level scenarios.
SupplyVue provides the visibility, data, information and business case to drive changes in the supply chain while fully understanding potential trade-offs.
SupplyVue enables provides visibility across the end-to-end supply chain to deliver better service to internal and external stakeholders.
The Result
Hard work, patience and trust in the analytics tool provided:
Improved forecasting accuracy.
Senior management tools to set informed policy.
For the first time, planners had powerful and relevant tools to perform root cause analysis of supply chain issues.
The big one? The company achieved an inventory reduction of 40% (yes, forty) in 12 markets amounting to US$ 200 million. Not too shabby eh?
Plus, something that is difficult to measure. SupplyVue raised the morale of supply chain staff who were now able to offer intelligent and assured solutions rather than shoulder shrugs and excuses.
The Future
Would you like to read more about analytics?
How to transform your supply chain?
The Next Important Step
Enchange can help you transform your supply chain, the overall business and personal ambitions!
To find out how we can help you and to enquire about our wide range of supply chain and related services please click here and contact us.
Image courtesy of Enchange.com