Performance monitoring Balanced Scorecards are invaluable in FMCG, Brewing and Coatings companies but they are also appropriate for any business leaders serious about improvement. Whatever your business size or product offering, you will benefit from such a scorecard by knowing exactly what is going well and where you can or need to improve.
If you are unsure about the true value of a Balanced Scorecard, let me discuss a familiar example. For once I can name a specific company in this article and that well-known business is Trotters Independent Traders (TIT). Trotters is a well known Peckham based UK operation involved in general trading and "knocking stuff out".
This very flexible and agile company is run by two entrepreneurial brothers with occasional "help" from a family elder statesman and frequently with even less useful assistance from their friends and acquaintances. They operate from an exclusive high-rise, corporate accommodation suite and while they are not yet super rich, "this time next year we'll be millionaires" is their mantra.
This is how the Trotters Independent Traders KPI Balanced Scorecard might look over a 3 month period.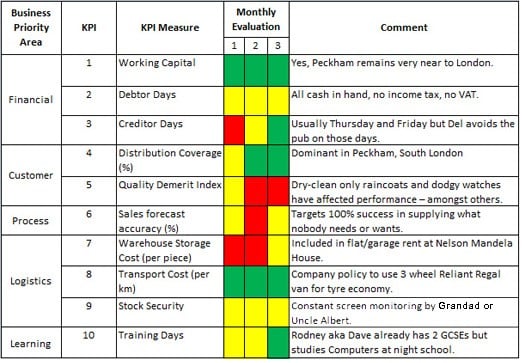 Without the need for never-ending meetings, a quick glance tells you which function or functions is being a "dip-stick" and who is playing a blinder in this company. In traffic light terms, green is obviously good and red is to be avoided whilst yellow reflects those areas to be treated with caution.
Should you also follow a Balanced Scorecard approach to business? You know it makes sense. Le monde est votre homard, as Del would say whilst destroying the French language.
Read more mainstream articles on Supply Chain and Route to Market Excellence on our website where you can also subscribe to our regular updates.
Finally, feel free to use any of our contact routes including Live Chat, if you have any questions about how Enchange can assist your journey to Supply Chain and Route to Market excellence.