If you are being honest you have probably sat bored in an airport lounge waiting for your inevitably delayed flight and listened in on a nearby conversation. Go on, admit it! If the discussion topic on which you are eavesdropping is not one with which you are familiar it can be as if you are listening to a foreign language. Different businesses, and even functions within the same businesses use a variety of words and phrases to describe what they actually do and not all are obvious to outsiders.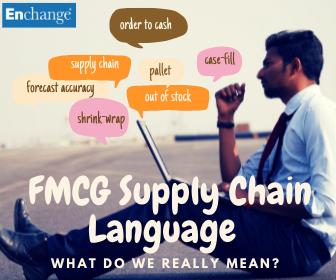 Here, I take a light-hearted look at some classic supply chain-speak. Within the supply chain community we all know what is meant by the myriad of KPIs, initials, disciplines, skills, terms etc but what might non-supply chain and second language English speakers actually hear and understand?
Here are just a few for your consideration.
1. Supply Chain – Available in many link sizes and materials; this is what Do It Yourself (DIY) and hardware stores provide.
2. Buying Contracts – The volume of supermarket shopping purchases reduces.
3. Call-off - Cancel or postpone a sports fixture or other scheduled event.
4. Line Efficiency - How quickly the queue moves at airport security.
5. Changeover Time – How long it takes to select another channel on a TV remote .
6. Forecast – What weather presenters try and do on a daily basis but usually fail.
7. Forecast Accuracy – How accurate or otherwise are the weather presenters?
8. Forecast Bias – Regularly preferring one weather forecaster over another.
9. Case-fill – Done hurriedly before leaving on a holiday or business trip.
10. Case Packer – The person who fills the above cases before travel.
11. Shrink-wrap – A white coat used by a psychiatrist.
12. Customer Service Levels – How many floors there are in the shopping centre.
13. Out of Stock – No bouillon cubes can be found in the kitchen.
14. Out of Stocks – Released from a mediaeval public humiliation device.
15. Order Fulfilment – Telephone request for home delivery of fast food.
16. Pallet – A flat, wooden, indented tray artists use for painting.
17. Pallet Space – How much free space is available for paint on the above.
18. Pallet Utilisation – How often you use the above item for painting.
19. Spreadsheet – Used to protect carpets and furniture when painting and decorating.
20. Order to Cash - An instruction given to a deceased American singer.
Ok, that is enough for now as my tongue is pressing far too long in my cheek. Many thanks for reading this far but you probably should go and do some real work before enjoying your weekend.
Read more articles on Supply Chain Excellence and Route to Market where you can also subscribe to our updates.
Feel free to use any of our contact routes including Live Chat, if you have any questions about how the Enchange Supply Chain House can assist your journey to supply chain excellence.