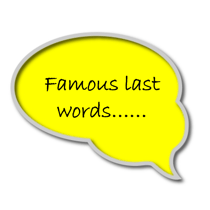 The "Famous Last words" of people can be intriguing, rude and frequently very, very funny yet equally they can be complete nonsense. In the context of the FMCG Supply Chain, "Famous Last Words" are usually uttered just before something disastrous or unexpected happens. Rarely is the term used with the expectation of good news to follow.......
Here are some "Famous Last Words" you may hear in your FMCG, Brewing or Pharma business meetings:
CEO/Chairman: "This S&OP process works extremely well. I knew it would."
Marketing Manager: "The new artwork will definitely be here in time for print production."
Brand Manager: "Don't worry there will only be three colours on the label artwork.
Finance Manager: "Working capital continues to reduce and will soon be negative."
Sales Manager: "This month our forecast will be extremely accurate."
RTM Manager: "The Distributor network runs like clock-work for us in Traditional Trade."
Planning Manager: "All SKU on the price list are available for sale."
Factory Manager: "We are reliable here; we do not have breakdowns or losses."
Procurement Manager: "All RM/PM supply contracts are guaranteed up to year-end."
Safety Manager: "Our last Lost Time Accident was well over a year ago."
Logistics Manager: "No problem, plenty of space in the warehouse at month ends."
IT Manager: "Crash? Don't be daft this software is bomb-proof."
HR Manager: "We run a happy ship, people are content and nobody useful ever leaves.
Nothing is ever as simple as it looks and sometimes commitments and promises fail to materialise but why always just at the wrong time?
There are many more examples from real life so please feel free to leave yours in the comments section. Why not give us a call if you hear far too many of these statements in your business.

Why not give us a call to discuss your needs?