COVID is rapidly changing the FMCG/retail environment, but these changes are vastly different from market to market and sector to sector.
Let us consider some examples:
Consumers are moving to online ordering – this is true, but in many markets this movement to online is dependent on pre-COVID online ordering levels.
Movement to shopping local – Traditional Trade (TT) / General Trade (GT) and local Modern Trade (MT) outlets are seeing some volume growth, driven in many cases by lockdowns and movement restrictions.
Where is the Margin? Some TT/GT outlets have seen category specific volume growth, and decline. This may drive overall volume up, but at low margins, the profit (and sustainability) may disappear.
Move away from large MT, out of town or shopping mall environments - driven in some cases by movement restrictions, fear for a lack of social distancing or avoidance of queuing.
HORECA volume disappears - in many countries' bars, restaurants and cafes are shut or have moved to takeaway models, with little understanding of what the future holds.
Off Trade Volumes grow - some markets have seen big growth in alcohol sales in off license and retail stores. Current evidence also points to the fact that this growth has not offset HORECA declines.
There are of course many other trends across many other sectors, but I use these examples to focus the mind on some key actions for us all to take now.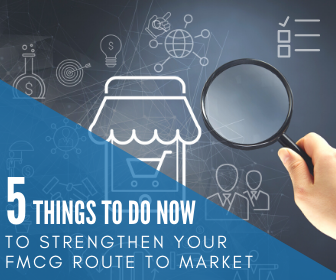 Here are five clear actions every consumer goods company should take now:
1. Get New Data - soak up as much new data and information in your market as you can to enable you to prepare and react accordingly.
2. Leverage your teams - while you are figuring this all out, bring in more brains. One thing the lockdowns have shown is the ease in bringing people together virtually, very quickly. If your company has operations in other markets, have you reached out to them?
3. What do your customers say? - these are the people on the front line, ask them what they think?
4. Scenario plan now - map the current and potential new environments and look at your potential position in each. What would your consequences be? Where are your strengths and weaknesses? What should you do now to prepare?
5. Choose Variable not Fixed Costs - in many cases we do not know what the future will hold, but as we need to build capability, capacity, and resources, try to maintain flexibility.
To help you face the COVID challenge in Route to Market strategy and execution you may be interested in the following:
Now is the time to be doing this analysis and understanding as you prepare to take the necessary actions. The 2021 winners in your market are doing it now. If you need help or flexible resources, please reach out to me directly.