This is such an important issue, and over the last number of weeks, I have been asked about it frequently.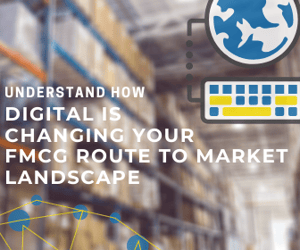 Digital and online ordering has played a key role in many markets for some time in RtM strategy and execution. In many cases its applicability to RtM strategy depended on the overall penetration of online ordering in the marketplace.
With COVID we are seeing a big shift to online globally and a huge increase in the application and acceleration of Digital in many sectors.
With RtM, it is important to note that Digital is much more than an online ordering platform.
As part of the 20 Steps to Route to Market Excellence, at Enchange we use the 4D Approach to RtM Strategy – Distribution, Display, Dialogue and Digital.
Online ordering is a channel of distribution, that has certain characteristics and needs to be understood and managed. An online offer in RtM is part of a Digital RtM approach and strategy. However, Digital in RtM requires integration across every step and element of your RtM strategy and execution.
As such you need to consider end-to-end digital RtM integration, including, for example:
Impact on other channels throughout the RtM
Points of digital integration in the RtM and who gets effected
Field force, steps of the call, vehicle tracking, dynamic route optimisation, including the use of CRMs and handheld devices
Financial implications, including digital cost to serve models vs traditional
Digital integration between customer facing and back office staff, including telesales
Integration, management, and analysis of data, RtM Analytics, including customer data integration
Specific tools we currently use and will possibly need in the future
Digital tool kits, including customised and targeted promotions, communications, upselling, suggested ordering, pricing, brand positioning, surveys, push messaging, customer and consumer engagement, etc.
In store activities including, for example, digital image recognition and computing for self-auditing in-store merchandise, planograms and key account agreements
Digital payment methods and impact on cash markets and channels
Digital outlet classification, methods, consequences and what it means
Digital RtM training, eLearning and eCoaching
B2B vs B2C, and dual options, and understanding what they both mean
Supply chain, manufacturing, logistics, the digital integration within the supply chain, including inventory, demand planning, forecasting, SKU's, pack formats, prioritised orders, delivery routes, etc.
Levels of customer interaction with any eCommerce platform
Competition, including potentially with your current customers, and its impact
Organisation wide understanding and buy in
Digital has and will continue to play a key role in RtM strategy and execution. However, we need to consider and understand its impact and applicability at every level of the RtM. It is not just online ordering.
Now is the time to be doing this analysis and understanding. The 2021 winners in your market are doing this now. If you need help, please reach out to me directly.