Did you know that the Christmas season originally ran from December 25th to January 6th which was in turn popularly known as the 12 Days of Christmas?
Christmas is becoming like old age; it slowly creeps up on you without you really noticing. I can remember eagerly looking out for the first sparkling tree to appear in a window in our road and that was usually around the 11th of December. Yes, what about that? Well into December before even a hint of tinsel and good old Bernard Matthews urging us to try his "bootiful" turkey.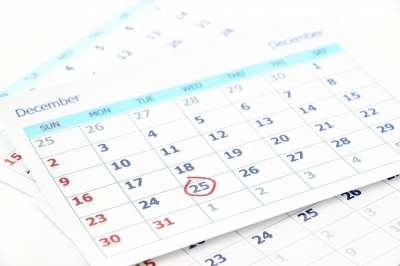 How early can you start to see festive fare in FMCG supermarkets and shopping centres? Certainly here in Romania that jolly friendly man carrying gifts has popped up in mall windows in October. I was not really looking out for seasonal items so perhaps the displays were set up as early as September. Yes, it is just a commercial event now and far removed from celebration of a carpenter's family failing to make a hotel booking in time.
This year has brought something I have not seen before. Festive non-dairy food has been promoted in the shops for a few weeks now and slowly sales are rising as people stock up for the holidays and beyond. But, have we finally reached the height of stupidity? Christmas food products are available that are marked with best before dates well before the big day!
Which genius thought that one up? I know, "best before" does not mean the products are not fit to eat but you would at least expect them to be top quality as Noddy Holder begins to scream out Merry Christmas Everybody yet again. You will not find many retailers willing to display "expired" stock.
What a time to place unnecessary stress on the Supply Chain? The company is already pushing to end the year on a high and suddenly an important part of your operation is dealing with returns.
How did that get past the S&OP process? I can only assume that a robust sales and marketing activity plan was absent. The peak sales period for festive foods is in the last 2weeks so why would you risk having your heavily promoted item off the shelves when the TV ad is jingle-jangling away?
Let us look at a few pointers to a good activity plan:
Insist on having a plan however painful it seems and however much sales and marketing gripe. This is for their benefit after all.


While maintaining necessary confidentiality, publish the plan widely so that all departments know what is expected.


The plan should have a 24 month horizon. You can start off with a shorter time period but you need to build up your activity planning skills quickly.


The plan must roll on and on, on a monthly basis. For example, you do not wake up in January with the previous year closed and think "what promos should I do now"?


Review the plan in the S&OP process. The plan should be challenged and adjusted as required in order to balance supply and demand and enable financial planning.


Allow flexibility where possible and where there is a high probability of success. Your business will always need tactical promotions to counter competitive activity or tap unexpected opportunities. The key is to provide what is possible without disrupting work in progress activity.


Evaluate the success (or failure) of each promotion or activity in order to learn lessons for future campaigns.
No, not rocket science but it can help to avoid the lunacy of taking back and destroying "expired" products and taking the excess cost hit just at the wrong time of the financial year.
Image courtesy of keerati at freedigitalphotos.net