My aging Toyota Land Cruiser is about to clock up an impressive 300,000km on roads that are of variable and low quality. Luckily, the car is built like a tank and comes with bull bars on the front or what I like to call a "Dacia Catcher". (Dacia as in Thatcher not Dacia as in Facia; will Captain Slow of Top Gear ever learn?)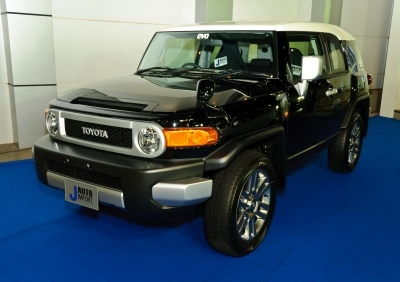 Now is the time I have to get the car ready for the bi-annual roadworthiness inspection and this year I thought I would change the servicing garage. The one that caught my eye was called "Superstar Motor Services". Ok, may be a bit of a cheesy name but they guarantee a quality job on the engine, bodywork and interior. A superstar product obviously carries a price premium but I thought I would give it a go.
I arrived at the very plush service centre, booked the car in and was then introduced to the servicing team. Nice touch! However, I admit I was taken aback to see the team consisted of Gok Wan, Martha Stewart and Jamie Oliver. Not the sort of people I was expecting to see in a car workshop but fair enough, let us see what they can do.
Gok quickly got to work in his pink overalls by changing the brake shoes for a more modern Italian design and followed this by fitting a matching engine drive belt. Bringing style to the old Toyota Gok finished off by polishing and aligning all the buttons on the dashboard. Simply gorgeous!
Next to swing in to action was Martha who was about to give the interior a professional make-over. The carpet was replaced and the old rubber mats removed to be replaced with colour coordinated fabric matting. The rear view mirror? So year 2000! A new crystal encrusted dual focus mirror was installed to contrast with the new jet black seat covers. With a swish of chiffon, Martha was gone.
Along came Essex boy Jamie with spanner in hand. In no time at all Jamie had replaced the sieves in the fuel, oil and air systems. The radiator grill was cleaned up and ready for use and the engine was topped up with a drizzle of extra virgin motor oil. Jamie's final flourish was a sprinkling of new nuts for the wheel hubs. Job's a good 'un.
As with all superstar operations you have to pay for the service before you receive anything back so I flashed the plastic and went to collect my car. My trusty Toyota would be like new and the engine would purr or it should for that price! I turned the key ....and the car would not start. Not a sound. Not even a click of an electric relay. The Toyota was an ex-car that had ceased to be. Never to be the same again.
So the lesson Mr/Mrs FMCG CEO is when you have a challenge in the Supply Chain you need to work with someone who has actually done the job in question. Hiring superstar consultants with expensive suits may be the easier corporate decision but being armed with a first class degree is nothing compared to long term, hands-on practical experience.
If you get this wrong you invariably exceed the budgets and get locked into a downward spiral of failed objectives.
Image courtesy of teerapun at freedigtalphotos.net