Just returned from a holiday in Spain. Thinking about it, our trips to UK do not really count as holidays as they inevitably involve moving heavy boxes up and downstairs as the heiress (click here for unashamed plug of heiress art work) changes address once more. This Spanish expedition did require a fair bit of luggage carrying as we took in a wedding at the same time so a number of pairs of shoes and dresses oh and one suit and tie, had to be taken.
Before we had set foot on a plane we had a problem. A naughty person has somehow found my credit card details and began spending money they didn't have on the internet on my account. I noticed this criminal activity fairly quickly and after alerting the bank it then dawned on me that the cards of my wife and I were now cancelled just 48 hours before departure.
"Your call is important to us. Please stay on the line while we connect you." Yes, a call to Customer Services was necessary. Any chance of getting a replacement card to me at a Spanish hotel address within the next few days? I was not expecting anything remotely positive but I was given assurances that a new card would be waiting at the hotel address on my arrival. Guess what? It was! Top Customer Service marks for that flexible friend.
Before getting the new card we experienced a travellers nightmare as the carousel grinds to a halt and one of your cases has not arrived. To be fair we have been lucky as the last time a case was misplaced was over 10 years ago. Nevertheless, the thought of wearing shorts and trainers to the wedding was not going down well with senior management. I had even less to wear.
On completing all the usual forms we were told the airline did not know where the bag was but it would be with us the following day – how could they know that? Sure enough, just while we were enjoying a drink and tapas to celebrate the arrival of the new credit card a courier arrived at the hotel to reunite us with our case.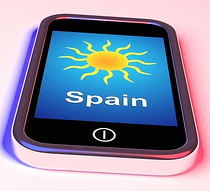 Once again, a positive Customer Service success and this time for an airline which might just be the most popular in Europe at present. On the return journey they even let us off with 16kg of excess baggage as they appreciated senior management had to refresh her wardrobe just in case the bag did not turn up.
Surely not three CS successes? No, of course not. The chance of a trifecta – look it up - was blown apart by an international car hire company. Hotels are increasingly charging for car parking or have even outsourced parking facilities and management to greedy Rottweilers with a huge numbers of registration plate cameras.
Thinking I had not paid for parking – I had and being a sad man I had all the receipts – they debited the car hire company for a 70 Euros penalty which they then passed on to me. The parking Rotweiller halves the fine if you pay within a few days and allows as appeal up to 28 days after the alleged offence. The car hire company only bothered to tell me about the penalty 50 days after the event and well after the appeals deadline. Many thanks to a car hire company that will remain nameless until I win! And I will.
Just as easy as it is for the credit card company and the airline to produce a good feeling and an inclination to future loyalty you can see how others really mess it up and will not be used again. The great Customer Service examples caused the companies to spend just a little time and money getting it right while the car hire company spent nothing and deserves less.
Image courtesy of Stuart Miles at freedigitalphotos.net