I think by now I have been exposed to around 100 different Sales & Operational Planning processes (S&OP) in sectors from FMCG to Pharmaceuticals to Agrochemicals. These processes have been global, regional and very much local-for-local processes in largely developing markets on 3 continents. Within that matrix of variables there are frequently large differences in the ideal process, meeting schedule/sequence, quality and outcomes but there is one consistency.
I know this is a generalisation and you may believe I am biased but all of these companies would be enjoying much better success if the sales function really bought into S&OP. Attending all the meetings is not enough. Providing data at the correct time is not enough. Selling to the company target is not enough either when the quality of sales forecasting is consistently variable and/or low.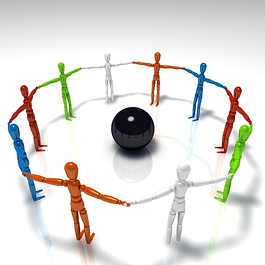 Sales individuals and teams need to fully commit to S&OP and be a helpful and proactive part of the process. Sitting outside the process and sniping at colleagues is counter-productive and only serves to ensure sales growth is a pipe dream. In many companies the sales bonus system is based upon value as a rolled-up whole and CEO's do not help here by pushing sales to sell their grandmothers as long as the value number is achieved.
Sales forecast accuracy is not about being 100% accurate each and every period as a forecast will always suffer a degree of inaccuracy. When did the weather people get the forecast 100% correct? Did anyone expect Wigan to beat Manchester City in the FA Cup recently? No, of course not and nobody expects a sales forecast by sku to be perfect. This is simply not going to happen.
Forecasting towards an overall monthly target value will get you nowhere fast unless you have a handful of skus. Few companies are in that position so forecasting by sku is vital for S&OP and company success. If that sounds like a daunting task in your business then perhaps you have too many skus!
Let us look at a 5 point plan to remove the fear of sku forecasting and get sales people motivated by S&OP involvement and results.
1. Carry out a simple analysis of what each sku delivers to the business. This could be volume and margin or profit or whatever your key driver.
2. Categorise the skus A, B, C, D where A skus are vital to the business and must always be available. B skus may be high volume but low contributors while C skus may be low volume but high value. D skus should receive significantly less focus and be subject to delisting if they are destroying value – some certainly will. What would you rather have out of stock, A or D?
3. Through cross-functional focus within the S&OP framework, concentrate on A skus and towards achievement of a decent level of accuracy. If you are going to have debate then have debate on what makes a difference.
4. When the A skus are being forecasted and supplied at reasonable accuracy add the important others from the B and C lists – not all of them. With better accuracy maybe some B and C skus can push up to the A list - growth!

5. Refresh your understanding of sku profitability/margin on a quarterly basis to ensure you are still giving your best attention to the key skus in your business.
These 5 activities within a mutually supportive S&OP will lead to greater market understanding by all departments and leave you Mr. CEO, with an organisation that collectively wants to succeed rather than indulge in silo wars.
Image courtesy of Salvatore Vuono at freedigitalphotos.net