Once more I delve into the TV of my youth and bring you the Goodies singing "Make a Daft Noise for Christmas" containing the classic line "Christmas comes but once a year, and when it does, it's absolutely shocking." Will this be the case for your business?
We are suddenly in December but is there light at the end of the tunnel for FMCG businesses closing their books at midnight on 31st? Unfortunately, the light in the tunnel is Christmas and a New Year approaching at the speed of a Japanese bullet train and you are powerless to get out of its way.
By now you should know what your year-end figures are going to look like. Will you look forward to the annual appraisal after a successful year or will you be hoping the boss drinks far too much mulled wine and suffers a lengthy amnesia lasting until after the paperwork is complete?
Established companies find it difficult to plan in advance so it is no surprise very few consumers are any better at planning their holiday shopping. Yes, you will always get Mr. & Mrs. Boaster telling anyone who will listen, "we finished our shopping in October". They probably did but in all likelihood this actually means they don't bother buying anything festive and nobody visits them anyway.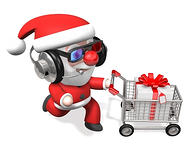 December may well have 31 days but for many FMCG companies there are fewer selling opportunities even in today's open all hours, 24/7 retail culture. There is so much competition for the consumers' money and especially from non-FMCG items. While your top selling SKU may well be a shoppers "first in the basket" priority in the summer when it comes to Christmas there are so many other shiny and more exciting things to purchase.
Key to your seasonal success will be how robust are the sales & marketing activity plans. Do you have a rolling forward plan covering at least the next 12 months and preferably 18 or longer? This is a discipline still foreign to most sales and marketing departments but it is vital the process exists within S&OP and is rigorous.
Christmas has not moved in the calendar for some time and if you have a short planning horizon you do not allow the Supply Chain to focus on the inevitable promotional peaks the holiday season brings. Suddenly a huge year-rescuing promotion is announced which provides the rest of the business insufficient time to prepare properly. The ensuing execution is usually incomplete, late, and not ideal and overall, a waste of valuable above/below the line spending.
Nobody expects 100% accuracy on a forward looking 18+ month plan but many elements are usually annual events which are refreshed on each occasion. Neither is the process complicated and even a dreaded Excel spreadsheet can be used.
The key benefit is that everyone in the business knows there will be a promotion on a certain range which will require X levels of extra stock to be in place on time. Modification can always be made tactically but changing your promotion from dark chocolate Santa's to white chocolate reindeer at short notice just will not work.
If you do not have a sales and marketing plan with a significant planning horizon then it could be the best gift you can give to your company this Christmas.
Image courtesy of Boians Cho Joo Young at freedigitalphotos.net