You will have to bear with me for a while on this one. Do you know that on average 85% of expectant women suffer food cravings during pregnancy? Apparently, the top 5 are:
| | |
| --- | --- |
| Pickles | 5% - yuk, that surprised me too. |
| Cheese | 11% - get those calories in. |
| Crisps/chips | 15% - much needed salt. |
| Chocolate | 17% - feel-good food. |
| Ice Cream | 23% - junk food craving or just indulgence as you put on weight anyway? |
Satisfying these cravings over the 9 months must lead to a significant extra expense (which might actually gently prepare prospective parents for the post-natal costs that will not go away for a very long time). This leads me to consider that there are specific windows in the calendar when opportunities for cost effective pregnancy cravings exist.
If you crave chocolate, then the best time for a pregnancy should include Christmas when you can take advantage of everyone buying you chocolates anyway plus the post-holiday BOGOF and more promotions to get rid of all the excess stock in retail. If you need a chocolate fix it does not matter if it is in the form of a stack of standard bars or if it is a box of chocolate Wayne Rooney/Shrek figurines. As long as you satisfy the chocolate fix then all is very well with the world.
If you are really clever with your timing you might be able to stock up with discounted chocolate products in January that last you until Easter. Then, everyone aware of your craving can buy you chocolate again and then you can gorge on endless stocks of 2 for 1 bunnies.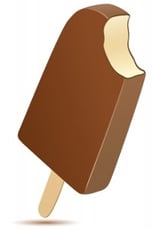 Like the majority of women in this survey my wife craved ice cream. This would have easily manageable had we been in UK but were located in Jeddah, Saudi Arabia. Even in the cooler months getting ice cream from a shop to the home freezer required an ice box. Without some sort of chilling system anything you bought would quickly revert to sugar, fat and water. To avoid emergencies, we had to overstock at home but ease of availability meant this rapidly diminished and led to numerous middle of the night dashes to find more ice cream.
So, if your must-have food is ice cream when is the best time to be pregnant and not break the home budget? If you are in the northern hemisphere then September/October is the ideal time to have an uncontrollable ice cream craving. Take a look at your local supermarket and you will see that the most promoted/discounted products are ice creams. BOGOF is common and as the time passes you will eventually see buy 1 get 4 free or more until the stock is finally exhausted, the product expires or the store wants the retail space returned.
I know it is very difficult to forecast demand for ice cream. Global weather is becoming increasingly unpredictable and even a few short weeks of a gloomy summer can ruin producers' sales campaigns. Producers do have very sophisticated tools that monitor the weather, providing indexes and algorithms to understand likely demand but nothing can be 100% perfect.
Weather sensitive businesses must be expending considerable resources on trying to get more reliable demand signals as the annual write-off costs continue to hit results. These financial loses will probably rise as our climate becomes even less predictable.
Good news for expectant mothers but bad news for shareholders, CEO's and CFO's everywhere.
Ice Cream Image courtesy of David Castillo Dominici at freedigitalphotos.net