We took a weekend break in Prague recently. I have been there before but only saw the inside of a taxi, a hotel and a soap factory that also makes margarine so this was a real tourism opportunity with the family. These days I do actually relax on holiday but there are always opportunities to see Supply Chains in action.
I have never seen so many tourists, even in London and to cap it all it was Gay Pride weekend. At times we didn't know which way to turn.
Prague was forecast to be very hot and indeed it was so we were pleased our hotel choice had a swimming pool. Cannot wait! On arrival the check-in desk our thoughts of relaxing aching limbs in a cooling pool were shattered. A small digital sign (yes, very posh) on the desk told us the pool was not available as it was being sanitised. There must have been some virulent contamination as I found out the pool had been closed since mid July, i.e. 6 weeks previously.
This Customer Service failing inevitably put us on the front foot when evaluating everything else the hotel had promised to provide. If they knew the pool was unavailable the decent thing to do would be to tell people. Sure, some bookings may have been lost but at least you know what to expect on arrival. What next? "I am sorry sir but your bed has been taken away for repair so you will have to sleep on the floor."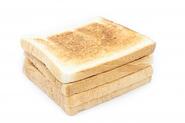 Breakfast the next day provided two further instances of customer service woe and neither required a rocket science degree to avoid.
Toast. Can you really get anything wrong with toast? You can at this hotel. Those tunnel toasters can really spoil your day if your carefully chosen bakery item is purloined by someone else while you were away pouring out your muesli.
Breakfast bread battles were not the cause of disappointment on this occasion, however. This toaster had a grill which rotated and took your bread between the glowing elements. The problem was you needed three passes to get even a tinge of a toasty look as the heat setting was on low and the speed was set at fast.
Being a bit of a practical type I reversed the settings to maximise the toasting opportunity in one pass. World War 3 nearly started in a Prague hotel breakfast room. Black-clad waiters appeared from every angle to give me stern looks and even sterner words I could not understand. Perhaps the Czech Republic had borrowed some of the UK's ridiculous Health & Safety rules and touching the toaster could have put the entire city at risk?
I was completely lost for words when told that operating it this way uses up too much electricity and therefore money. My discussion on efficiency fell on deaf ears and they quickly reset the machine and bread continued to be "toasted" three or more times in front of a watching audience of hungry guests.
Could things really get worse? Oh yes!
Rice Krispies. What can go wrong with a bowl of this well known FMCG cereal? I filled my bowl with said cereal, added milk and sat to eat expecting to hear that famous snap, crackle and pop. Stale. They had the texture of cardboard and a similar taste too. They must have been around for weeks soaking up moisture and various odours from the environment. I took a waiter over to the large serving bowl of cereal and he was rightly horrified. Turning smartly he used the "out" door to enter the kitchen and quickly returned with a brand new unopened catering pack. With a Fawlty-esque flourish and smile of proud satisfaction he poured the new stock on top of the decaying stale stuff. Aaaaagh! Perhaps the police should be told about this cereal killer.
Customer service, operational efficiency and FIFO stock control all compromised and it was only day one!
Image courtesy of artimisphoto at freedigitalphotos.net