I recently wrote about how an airline dented its reputation with an overly fussy interpretation of on board baggage storage rules. In my poor customer service trilogy I now turn my attention to a well known global telecoms company. I will keep the name to myself on this occasion as the outcome is not yet finalised.
Telecoms companies change their deals so frequently it is difficult to keep track and really understand what each deal offers for you personally. So, when company X called me and suggested I pop into the shop to review my contract package I thought why not. With the heiress being in UK our telecoms costs had risen to a new level as we dealt with lost passports, lost keys and the heiress simply being lost.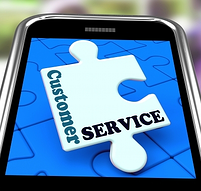 On discussion with said shop it was very clear that our current contract was not ideal for our new long distance communication situation. I was offered a solution that would indeed save money but as my current contract was not adjustable for another 4 months I would have to take a new contract with a new number and lo and behold there was a special offer on just at that moment.
I accepted with the knowledge that I would return in 4 months and make a new lower cost deal for the number I had used for 10 years. What's the problem with that then?
Exactly 1 month and 1 day after signing the new deal – yes, outside of the cooling off period – a cheery voice called and asked if I would like a new deal on my existing telephone number. Interesting, thought I so I listened to the pitch, i.e. "we have noticed you call UK a lot and we can give you a cheaper option". Yes, you have guessed correctly, suddenly at their prerogative they offered me exactly the same deal I had taken one month previously on the new number.
Why didn't the assistant at the shop tell me this? All my numbers are visible and call histories for at least the last 6 months are available so what stopped the assistant giving me a really good deal that would make me walk out with a spring in my step and a feel-good smile? Sales commission!
The deal offered in the shop brought the sales assistant some financial benefit through pushing the promotion. Yes, the solution offered did indeed save money but the desire to sell a new number overpowered his will to provide the best solution for the customer, i.e. the same new deal on the existing telephone number.
An example of a salesman doing what is right for him and not what is right for the customer or the company. Unforgivable, in any sector at any time.
Image courtesy of Stuart Miles at freedigitalphotos.net