I used to be a big fan of Formula 1. Sunday afternoons in rainy UK in front of BBC2 watching either the Grand Prix or the 40 overs a side John Player League cricket – weather permitting, bliss. Jasper Carrott once expressed surprise at how anyone could be interested in watching blurred adverts flash past at 200+mph but I was enthralled by the noise, speed, competition and yes, I admit, the crashes.
Murray Walker was the star commentator and has not been bettered since in my view. Murray was forever putting the mockers on drivers by saying how well a certain driver was racing only to see their car break down or crash out of the race almost immediately after. Murray's famous catchphrase was "...Unless I'm very much mistaken..." which was inevitably followed by "...And I am very much mistaken...".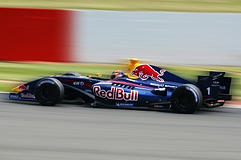 My interest ended abruptly in 1994 when Michael Cheatmacher deliberately crashed into championship leadership rival Damon Hill's car to knock him out of the Australian Grand Prix. Mr. Cheatmacher therefore won the championship with Hill in second place and unable to claim any points. Never to be forgiven.
There must be one enormous logistics organisation behind each and every F1 team. Just think about the amount of stuff that has to be dismantled and transported to a location on a different continent before being re-assembled and ready for racing. You really don't want to tell Lewis Hamilton that he cannot race this weekend as you left the tyres in Japan or tell Fernando Alonso that his favourite steering wheel didn't arrive. Not that Alonso could look more miserable anyway.
Amongst this huge Supply Chain effort there are many smaller chains working in parallel and in sequence. For me the most impressive piece of Supply Chain team working is the pit-stop. The current record for four tyre changes, refueling and a complimentary spray of screen insect remover is a staggering 2.31 seconds set by the team supporting Jensen Button in Germany in 2012. For someone who needs about 30 minutes to change a wheel that is a ridiculous speed.
They key is that everyone knows their job and what is expected of them. Each player knows how their actions impact on others in the pit-stop process and they are primed and ready to act when it is their turn to perform. You so not see mechanics looking around for the compressed air wheel nut remover or the fuel man putting the wrong type of fuel in the tank or the windscreen man asking Vettel to wait a moment while he gets a clean cloth. Of course, not all teams can manage 2.31 seconds but anything below 10 seconds is impressive.
That pit-stop is a mini S&OP process. Preparation beforehand is to minute detail and each team member comes to the "meeting" armed with exactly what is required to make the interaction a success. This is a "one shot deal" which directly impacts on race/business success. If any one team member fails to do their job then 2.31 seconds can soon turn in to 20 seconds and millions of Euros in grand prix money/turnover can be lost.
Have you checked out how smoothly your current S&OP process is driven? You will find some F1 S&OP tips here……….. unless I am very much mistaken.
Image courtesy of Jon Whiles at freedigitalphotos.net