You have completed your weekly shop at one of the well-known International Key Accounts (IKA). Pushing your trolley around the well stocked aisles you selected what you needed and piled up the goodies. A full trolley this week as there were several very attractive offers including 2-for-1 on Easter eggs after chocolate producers got their forecasts wrong again.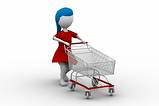 Now for the usual gamble. You cannot go down the 10 items basket-only route as that would be rude so which queue do you select? Do you go for the shortest line or do you play the tactics of how many items are in baskets and trolleys ahead of you? Does the check-out employee operate speedily or are they prone to chat? You eventually select a lane and inevitably it goes slower than all others. C'est la vie. Finally, you reach the front of the queue and your turn arrives.
Ok, hold that image for a while as I wander around and I will get back to it later.
I have needed a few spare parts around the house this week and searched on the internet to get the best deals. However, there were so many variations of the parts I needed that I decided to fill out two online forms requesting assistance from competing companies – in Romanian language I might add! Within an hour I had 2 email responses and 1 company actually phoned me to make sure I had what I wanted. I am in Romania and this is not usually what I experienced so I was pleasantly surprised.
Problem number 1 solved but then I needed to replace a garden gate and repair a set of steps. The web search revealed many options as you might expect. Feeling buoyed by my earlier online experience I sent enquiry forms off to a few companies. To date, not one has replied. These companies are not small one man bands and have obviously invested in a website and in other advertising to get their brands well known.
These companies are paying people to source, plan, make, deliver and sell yet they cannot respond to fairly simple requests. What a waste of time and effort? I have my cash ready and for some reason they don't want me to buy their products.
Now let us move back to your IKA check-out queue experience. You are unloading your goods onto the conveyor just as the person in front takes their receipt and change and walks off to trundle the trolley to the car park. Your shopping moves slowly towards the edge of the conveyor until it automatically stops. After the usual exchange of pleasantries the check-out assistant says "I'm not going to sell these items to you" before walking off ignoring your pleas.
All that customer (IKA) and consumer time, effort and money has simply gone to waste. Perhaps more importantly, Customer Service at its very worst.
Image courtesy of renjith krishnan at freedigitalphotos.net