Is your Route To Market (RTM) network sluggish? Does your system frequently stall and cause frustration? Sales performance not going to plan? Competitors streaking ahead of you? Is your boss at Corporate HQ giving you a rough time? What can you do?
You need Enchange RTM Fix-It Utilities 10 Professional. This latest edition brings you the following features:
Fix Problems & Speed Up Your RTM

Customer Data Registry Cleaner

Stop RTM Crashes & Freezes

Repair RTM Network Errors
Complete RTM Maintenance

Defragment & Refresh Your Distributor Network

Optimise Corporate Memory
Fix RTM Stock Security Flaws

Analyse & Reduce Out Of Stock Incidents
Fine Tune Order Capture Data

Total Top & Bottom Line Protection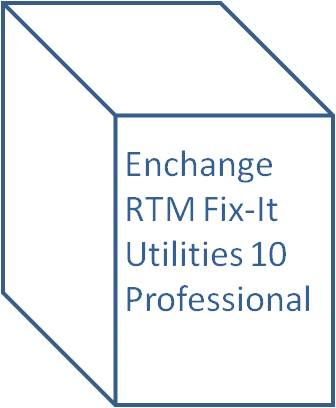 Not only does Enchange RTM Fix-It Utilities 10 Professional repair RTM problems, it also gives users a better understanding of how Distributor Networks actually work with detailed, easy-to-read analysis results and data. Choose a 1-click Assess All option or easily choose from the list below to gain more detailed insights on selected target areas.
S

trategy & Structure

Producer – Distributor Relationship

Demand Management




Inventory & Delivery Management

Warehousing & Logistics

Sales Management

Order Management

Finance & Business Planning

IT & Data Management

Performance & Reward
RTM Fix-It Utilities 10 Professional also comes with a new module to activate and then measure the benefit of incorporation of Distributor activity within the Producer S&OP process. Think about that; one smooth process delivering your product right into consumers' hands.
A key part of any Route To Market (RTM) strategy is determination of how the key RTM activities shown in the above list are managed in order to add the greatest value to the Producer, the customers of the Producer and ultimately the paying consumers. A Producer has a number of options with respect to these key activities as depicted in the example below.
Why not contact Enchange to take a 2 week Walk Through trial now at very low cost? Alternatively, if you are already convinced about the value of the Enchange RTM Fix-It Utilities 10 Professional then a 2-3 month deep-dive assessment and repair can be yours. Call now on +44 1403 275 576 or send an email to improve@enchange.com
Act now to secure the latest edition of Enchange RTM Fix-It Utilities 10 Professional and reveal the full potential of your RTM deployment.
Images Courtesy of Nora Sebok at Enchange.com