Today I am getting ready to do business in my nameless dysfunctional FMCG business. For "FMCG" you can substitute ANY business sector you wish.
I pull on my tough walking boots that will do very well at hiking and climbing and dealing with any water hazards. A full body suit made from flexible Kevlar with all the usual macho combat style zips, loops and pockets plus the necessary reinforced seat padding. A pair of padded gloves which could also be used for keeping goal in football. Low weight but high impact crash helmet plus visor and chin guard.
That's the equipment sorted and now for the necessary consumable materials I need to carry. This includes 5 litres of cooking oil, 5 kg of small but sharp pins and at least 5kg of male bovine manure. Necessary reusable equipment includes a grappling hook, rope ladder and megaphone. On the IT front I have my laptop – must think about one of those tablets; less weight and made for an easier climb. The mail function of the laptop includes a direct wireless link that automatically forwards email delivery and read receipts directly to an offline hard drive stored in a fireproof cabinet.
Yes, I am ready to do business. I am ready for Silo & Obstructional Priorities (S&OP).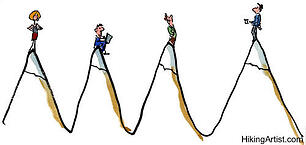 These departmental silos are very deep and surrounded by heavily fortified defences. Using the grappling hook I am able to secure a pulley to the top of the wall and hoist up the rope ladder. The climb is tough with such a lot to carry yet slowly but surely I reach the top without alerting any of the people with whom I work – "colleagues" is not really an appropriate descriptor.
Once stablised at the top of the silo I make my move. In quick succession I pour over the cooking oil, scatter the pins and widely disperse the male bovine manure. Almost within the same second I press "send" on my laptop and a buck-passing message speeds its way through the LAN. With only seconds to spare I use the megaphone to warn those in the silo of what is coming yet still have enough time to store the delivery receipt in the fire proof cabinet and close the PC so nobody can do the same to me.
Job done! Backside well and truly protected and a deeply satisfied feeling flows through me as I think of the chaos in the adjacent departments' silo. "I feel good, de de de de de de de, I knew that I would!"
Sounds familiar? While this might exaggerate the situation it is a fact some or all of these behaviours and tactics are seen in many companies day after day and month after month. When you operate in such deep silos the only guaranteed business result is failure.
If recognise you are operating in a Silo & Obstructional Priorities environment then you need to break the silos down before you can implement the real S&OP and start climbing the path to success.
Image credit: HikingArtist