The London Olympic Games 2012 are getting very close. The Olympic flame is on a tour of the UK before it finally (and hopefully on time) reaches the Olympic stadium to light the cauldron to mark the start of the games. As the flame has to pass through northern England there is a high risk of the flame being extinguished by torrential rains but let us assume the logistics work and it gets to the right place at the right time.
Over 14,000 competitors from nearly 200 countries have been getting up ridiculously early to sweat and train at whatever sport they excel. That is a huge number of really fit people who are focused on being in peak condition for an event that might last less than 10 seconds or several hours. Taking the 100m sprint as an example; the top sprinters will have 4 opportunities to perform. A collective window of 40 seconds to reflect all that money, time and effort you have expended to qualify and perform to the best of your ability. What if you stumble or don't hear the starting gun or worse still, you get disqualified?
All that planning and careful preparation to get yourself to the semi-final of the competition only to be disqualified for being a little twitchy waiting for the starting pistol to crack. Hey, don't worry. There will be another chance for you in 4 years time…
You are not there to perform in front of millions and millions of people around the world. Nobody will see you perform in the final and instead of your stock rising and attracting more lucrative sponsorship deals you will be remembered as "that poor bloke with the twitch".
While all this Olympic activity is taking place is your physical stock rising as we approach the half-way point in the year? The global economy seems permanently stuck in "weak and unpredictable" mode with no obvious way out. Imagine you are a yellow Pac-Man nibbling away at the dots and then getting stuck in a dead end. What next, nowhere to go, panic! Despite this, many CEOs will be under extreme pressure to "make the numbers". How exactly?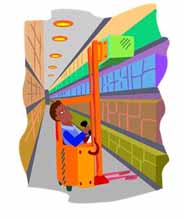 There is a limit to how much stock can you push into your trading channels and this includes International Key Accounts. Coercing a Distributor to take more and more stock is an easy option but it is an unsustainable action that damages your business in the long run. At some stage a brave CEO has to say enough is enough and start a period of controlled destocking despite the effect this will have on top and bottom line. You know you are doing it so stop deluding yourself and HQ and do something!
You may believe that excess stock means you will never be out of stock or off the shelves but this is not the case. The available stock will inevitably be unbalanced and just when you expect your long planned relaunch to fly out of the blocks and hit the shelf you twitch and realise you have 9 months stock of the old product to move out of Distributors first.
What a disappointment. A waste of money, time and effort, i.e. an Olympic gold medal-sized goof!