Not since Margaret Thatcher has a woman been so feared. Steely cold eyes and a grin that makes the Mona Lisa look like she is having a good old guffaw. Jet black clothes contribute to her oozing superiority complex and an image of someone certainly not to be messed around. Is there anyone scarier on TV today then Anne Robinson? If you watch a non-UK version then apart from a few notable exceptions e.g. Ireland, Philippines, Japan and USA, the show is presented by a dark clad disciplinarian Robinson-clone backed up by a withering script.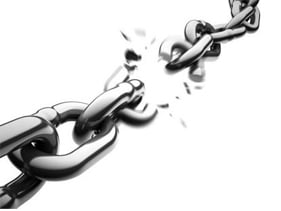 The concept of systematically removing the weakest personnel link in an organisation would probably not work and would have all sorts of people racing off to the European Court of Human Rights. However, one former boss did have a similar policy of "interviewing" those considered to be holding up a project or process and not letting them leave the room until they stopped being the barrier. Inevitably, this meant someone else had been elevated to the role of "rate determining restrictor" and they were hauled in and the process continued. There is a limit to this approach as it is interpreted as buck passing and soon backside protection takes priority over the actual business issue and you go nowhere.
However, the approach could be used when considering where your weaknesses are in the Supply Chain. Any business process that relies heavily on a forecast, e.g. FMCG, Pharmaceutical is by definition imperfect and the challenge is to continually modify what you do in order to improve. Where might your "rate determining restrictor" occur? This could be a factory or a warehouse or a co-packer, IT, forecast accuracy or the entire S&OP process itself. When problems inevitably occur if you very publicly and without the threat of blame-storming get a team together to determine and agree what has to improve then you may well get a decent level of buy-in and therefore, a higher likelihood of success.
Inevitably, when you solve one problem you will come up against another but as long as the approach is collaborative and you avoid the "interviewing" technique of my former boss (you know who you are!) then progress will be made.
So instead of fixing the apparent culprit with a stare that would frighten a sleeping baby and announcing to the world "you are the weakest link, goodbye" try "we have the weakest link, good work".
Anne Robinson is retiring from the show this year apparently and will be seeking a new position. Think about it - Anne Robinson, your S&OP Process Manager.