If you are running an FMCG factory the least welcome pack sizes will be something like 50g sachets of washing powder or 50ml tubes of toothpaste, i.e. relatively slow filling and low capacity. In multinationals these small pack skus are likely to have been outsourced to 3rd party co-packers who are geared up for high volume output of small unit sizes especially when the packing is labour intensive. Many of these skus will be sample or promotional packs which do not directly generate turnover and the supply can be switched on and off without disrupting the in-house sourcing unit. The in-house factory can focus on the larger and more profitable pack sizes.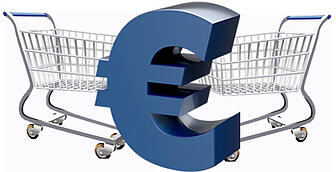 This is hunky-dory in developed markets where disposable income is high and consumers demand and can afford larger boxes, bags, bottles etc. However, large swathes of Eastern Europe are far from developed and consumer disposable income is much, much lower. If one approach to developing markets is to provide affordable pack sizes to gain consumer trust and loyalty why is there such a prevalence of large "big value" packs in CEE? Ok, the 15kg sacks of "Dhobi Dust" may well be destined for hotels and institutions in the HORECA sector but a huge range of larger packs sizes are offered to everyday shoppers in CEE.
Taking Romania as an example. Recently, the actual population of Romania was estimated in a census at around 19 million people. That is a few million down on the previous census and may reflect a falling birth rate and the migration of families seeking employment elsewhere. So FMCG companies have 19 million Romanians to persuade that their brands and pack sizes are the ones they need, or do they? In another piece of work from 2012 the number of Romanians living below the poverty line is estimated at 41%. So instead of a 19 million target audience for large pack sizes and expensive brands there are approximately 11 million.
Multi-nationals appear to forget a large proportion of the population yet these are the people who aspire to greater wealth and should be a key focus for anyone targeting growth. This may well be a slow-burn opportunity but growth in Western Europe is very low single digit at best. CEE TV and other media are geared to pander to those who already have a degree of financial stability and disposal income but I consider this a very short term approach. With the recession seeming to actually be a new economy reality rather than the predicted blip or double-dip, more and more of these people will drop into the market for more cost effective brands and pack sizes.
And now getting to the point in this supply chain blog? If companies have local for local factories then fair enough it is likely the flexibility will be built in. However, with most European FMCG multinationals operating regional sourcing units and regional supply chains valuable future growth could be missed. Regional factories and supply chains should be set up to serve growth potential markets as a priority rather than as an afterthought. Big pack sizes may well make machine efficiencies look wonderful and the sku may be very profitable but they are not supporting growth now and companies will be ill equipped if/when the economic gloom lifts.