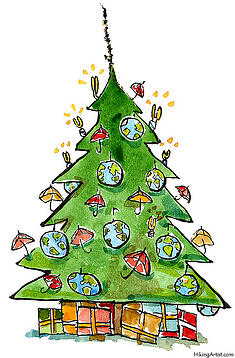 Ebenezer Bruise is a miserly, cold-hearted FMCG CEO, who continues to berate his Supply Chain people even as Christmas approaches. As far as Bruise is concerned every problem in the company is caused by Supply Chain. He rejects a Christmas dinner invitation by muttering under his breath that the food would not arrive on time, the meat would be pigeon instead of turkey ad it will all probably be out of date. In the entire company his is the only desk free of Christmas cards and decoration but full of corporate gifts he has kept to himself.
This is a person who does not like the last quarter and particularly the year-end. Bruise knocks over snowmen and even boos when he passes the charity brass bands collecting money in the snowy street. His favourite past time appears to be shouting at his overworked Supply Chain Director, Bob Planit. Bob has been a loyal employee for reasons nobody seems to understand.
That night after putting his three-legged cat outside for the night in the sub-zero conditions, Ebenezer Bruise climbs into his bed to sleep. Ordinary people may count sheep to get to sleep but Bruise counts the number of people he has dismissed from the company during the year. When he reaches three figures he falls into a deep sleep while snoring like a pneumatic drill digging into rock-hard concrete. During the night, Bruise's former Sales Director Jake Barley, dead for seven years, visits him in the form of a ghost. Barley's spirit has been in suspended turmoil since he died one day before payment of his annual bonus as punishment for being consumed with working in a Sales silo and sniping at other departments, especially Supply Chain. Barley has come to warn Bruise and provide the opportunity of saving him from the very same fate. The warnings will be delivered on time, in full by three visiting spirits.
Bruise falls asleep into snoring oblivion once again but wakes up to find the Ghost Of Supply Chain Past, a small, elderly man not unlike Mr Bean. The Bean-like ghost uses his I-Pad 6 to show Bruise scenes from history that follow Bruise's career development from a young boy with a clutch of A-level certificates. The scene shows Bruise, lonely but with the potential for happiness, as a young man with the first traces of ignorance and ambition that would deny love and real friendship in his life. Surprisingly, Bruise shows tearful emotion when studying the images and seeing his former self. An indication of the effect this spirit was having was that Bruise had not cried since school when he sat on a chair full of drawing pins in the Physics lab. The collective guffaw of the class still fresh in his mind.
Bruise returns to his pneumatic sleep and almost immediately he is awakened by the Ghost Of Supply Chain Present. This spirit has but a fleeting time on earth and quickly shows Bruise several local scenes of Christmas joy and charity. Then, with a slide of a spiritual finger down the I-Pad screen shows him a view of the Planit household. The ghost informs Bruise that unless the future is changed, the Planit's crippled yet good-hearted young colleague and lodger, Jolly Tall will die from stress and overeating carbohydrates in an impoverished diet. Finally, ragged boy and girl misty figures float out from beneath the ghost's robes. The ghost introduces them as Ignorance and Ambition and warns Bruise to beware of both in equal measure.
Again; back to deep sleep but not for long. The quiet, black-clad Ghost Of Supply Chain Yet To Come takes the place of the other ghost. The Alice Cooper-like figure shows Bruise several scenes of people discussing someone's dismissal yet no one seems upset by the departure. Indeed, every single person in the vision seems overjoyed and happy with the news. Bruise does not yet realise the identity of the unfortunate person. He learns that Jolly Tall has sadly died after developing pneumonia through a hole in his shoe rather from the expected mal-nutrition. Bruise finally discovers that he is the one who has been dismissed and whose departure has only pleased people. Through misty eyes Bruise pleads that these scenes of the future can be altered and vows to incorporate the lessons of the past, present and future ghosts into his adoption of the Supply Chain Christmas spirit.
Bruise wakes up back in his bed and realises that the whole adventure took only one night and it is now Christmas Day. The snow is falling and Noddy Holder and Slade can heard bashing out their 1970's Christmas anthem in the distance. Wrapping up well, Bruise brings the cat inside to thaw and walks into the town. On his way to the office he smiles and shakes hands with everyone he sees, bringing startled looks upon their faces.
He sends a large turkey to the Planit family, gives a sizable donation to the charity worker he previously insulted and has a wonderful time at Fred's party. The next day he gives Planit a pay rise! Bruise continues his kindly ways after Christmas, befriending everyone and becoming a second father to Jolly Tall, who does not die due to a hole in the sole. He never sees the ghosts again, but he keeps the spirit of Christmas and Supply Chain alive in his heart as well as anyone.
Image credit: HikingArtist.com