Well, I find it strange anyway. Some very large companies spend countless hours and cash in finding and securing a third party logistic provider (3PLP) to take great care of their finished goods assets. The performance of the chosen 3PLP is then measured and monitored very closely using a suite of KPIs, e.g. damages and losses are recorded and usually debited to the 3PLP under the contract terms. A 3PLP is charged with "storing your stuff" as safely and cost effectively as possible and providing easy picking for dispatch.
I often wonder why some blue chip companies fail to adopt similar warehousing and logistics principles in the operation of in-house engineering stores. Depending on the industry, the value of the components can be several millions of Euros. If you do not pay attention to this area then the same things happen as they do with finished goods warehouses, including:
1. Shrinkage or more accurately, theft! Your spare parts stores will be helping to repair private cars, replenish home tool-boxes and raise personal funds through the sale of stolen goods. This might seem harsh but I have seen it first-hand and continue to in large organisations.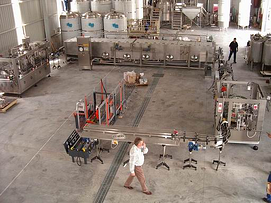 2. Important parts are not in the right place. If you do not have clearly labelled storage bins you can stop production lines very quickly losing valuable operating time. At the end of the day an idle line can probably lead to more lost sales than a badly picked finished goods pallet.
3. Spare parts not replenished. If stock control is not rigorous then you will go out of stock on important items just when you need them. Sod's Law dictates that they will also be the parts with lengthy lead times.
A few simple principles loaned from big scale warehousing will help:
Operate some sort of stock management system. This can be done on Excel with some discipline but specifically designed software packages are available. You need to know where each spare part is located just like in a finished goods warehouse.
Carry out cycle and annual stock counting. Keep a close eye on your high value and production-critical items by counting them on a rotating basis. Do not wait for a year-end count to reveal a gaping hole in your stock value.
Carry out an ageing analysis. Many large stores are full of spares for machines that were last running when "Shep was a pup". They are of no use to you yet they sit on a shelf and on your books as working capital. Any materials with specific shelf lives also need regular checking to ensure you are not holding something which is at best useless or at worst dangerous!
Secondary store for critical items. Items of high value or those which will stop production can be held in a "store within a store", e.g. a wire cage with 2 locks. Access to these items requires a more senior employee to be present at issuance, e.g. maintenance manager.
Operate some relevant KPIs. These do not have to be wide ranging or difficult to calculate, e.g. ageing, stock rotation, shrinkage etc. An important KPI can be the value of your spares as a % of the operation asset value. Do you know yours?
Order and stock only what you need. Avoid the temptation to buy in bulk as the price is keener. If you are able to calculate a forecast plus some safety stock then you can minimise your inventory and your working capital. Also, ensure that spares purchasing and receipt are spilt responsibilities or you may find you are buying items you do not actually use in the factory..………
Restrict access to the spare parts stores. If you allow anyone to wander in and remove items then your stock control will be out of control, no doubt. If you require access to spares on a 24 hour basis then ensure the facility is staffed appropriately at all times. Leaving the stores unmanned and the door open should be a disciplinary offence.
When looking at factory operating efficiency people will often focus only on the production line and RM/PM supply. Take a look at how you manage spare parts and you may be able to influence your level of efficiency from an unexpected source close to home.
Image credit: Hi.WTC