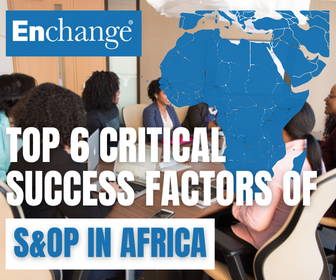 I have been talking to a number of FMCG Regional and Market Leaders in the past few months about the supply chain challenges that they face in African and Middle Eastern Markets.

Most understand the benefits of a Sales and Operational Planning (S&OP) process. Many have already implemented S&OP with varying degrees of success.

A surprising number are about to implement S&OP or start a project that improves the process already in place.

A common topic has arisen along the following lines:

"We are about embark on an S&OP project in our [African] market(s) and want to understand the critical success factors that apply."

So in response, based upon delivering this work for nearly 30 years in African markets, I offer the following Top 6 Critical Success Factors to consider when implementing S&OP Projects in Africa:
END MARKET (EM) COMMITMENT & OWNERSHIP
End Market Senior Management – all of them - need to be convinced. Generally they are sceptical about such projects that originate from HQ. Time spent doing this properly is always time well spent.
The CEOs/GMs can make or break the project; the success of S&OP is directly proportional to the commitment and ownership shown by the CEO. It is not a supply chain project.
Projects need a 'sell', NOT a 'tell' approach.
End Market operational team engagement is always critical but will not happen if CEO buy-in is below 100%.
The initial message from HQ will be very important in establishing realistic expectations.
S&OP PROCESS DESIGN (ASSUMING A STANDARD S&OP DESIGN)
Standardisation – key is establishment of the 'S&OP Template' of key processes (e.g. SCOR Levels 1, 2 & some 3) with local End Market adaptation within 'reasonable' boundaries. Keep the 'rules' robust and to a minimum.
Level 3 Design – use some End Market development as an opportunity to develop local ownership with local teams.
Keep it simple for end market execution.
PEOPLE & MANAGEMENT OF CHANGE
Most S&OP projects involve significant change. Ensure that as a minimum, the following are addressed in some way:
Create a change management strategy - start with readiness assessments;
Engage senior managers as sponsors of the change;
Ensure communication develops a strong message and awareness of the need for change;
Involve people through the transition including by workshops in the design and implementation stages;
Ensure ample education and training to support the change;
Measurement & Reward - gauge progress (e.g. KPIs), reward appropriate behaviours (e.g. bonuses) and reinforce (e.g. award schemes) to sustain the change.
Avoid excessive delay (for any reason) – people will lose interest.
Above all, appoint a dedicated Change Manager.
PEOPLE & CULTURE
One size does not fit all in Africa and the Middle East.
Any S&OP project must be adapted to account for the local business culture. Failure to do so will likely end in failure – I have seen many examples.
INFORMATION TECHNOLOGY
S&OP should not be an IT led project.
However the business and financial success of any S&OP project is usually directly proportional to supporting ERP (e.g. SAP) effectiveness, planning tools, data capture and master data management.
Consider interim IT tools – these can work extremely well and maintain project momentum before the full IT solution is implemented.
MEASURING PERFORMANCE & MANAGING FOR SUCCESS
Decide project outcomes in advance.
Decide what is not negotiable.
Be prepared to learn and adapt during the project.
Use established Project Management methodology (e.g. Prince 2 – a 'Lite' version please) – plan, review etc.
Establish KPIs – consider a Balanced Scorecard.
Paint a picture of the benefits early.
Build End Market success into CEO/GM/Board bonuses.
I have focussed on our experience from S&OP projects in dozens of countries in Africa and the Middle East. Upon reflection, the above also applies in varying degrees to S&OP projects in other parts of the world.
Any comments would be most welcomed.
If you need any help on any supply chain or route to market issues, please reach out to me directly.
Note: This is a revised version of the article that Michael has originally published on 17 Feb 2011.