Sorry, this blog has nothing to do with any of the above. It is everything to do with Friday afternoon & a bit of fun.
We had a meeting today about how to improve our blogging & some whit suggested that if we were really serious about increasing web traffic, only sex & jokes work.
As an experiment therefore we thought about spicing up the Enchange blogs with a bit of ....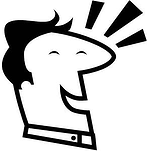 Humour of course. This is an email that did the rounds some time ago about Employee Appraisals. Apparently they were actual quotes from the employee performance evaluations of a US Corporation. Here are 20 of my favourites. I have chosen to believe them.
Unfortunately, we can't acknowledge source as we don't know where it came from.
"Since my last report, this employee has reached rock bottom.....and has started to dig."
"His men would follow him anywhere, ....... but only out of morbid curiosity."
"This employee is really not so much of a 'has-been', but more of a definite 'won't be."
"Works well when under constant supervision and cornered like a rat in a trap."
"When he opens his mouth, it seems that it is only to change feet."
"He would be out of his depth in a parking lot puddle."
"He sets low personal standards and then consistently fails to achieve them."
"This employee is depriving a village somewhere of an idiot."
"Got a full 6-pack, but lacks the plastic thing to hold it all together."
"A gross ignoramus - 144 times worse than an ordinary ignoramus."
"He would argue with a signpost."
"He has a knack for making strangers immediately."
"He brings a lot of joy whenever he leaves the room."
"When his IQ reaches 50, he should sell."
"A prime candidate for natural deselection."
"If he were any more stupid, he'd have to be watered twice a week."
"If you give him a penny for his thoughts, you'd get change."
"One neuron short of a synapse."
"Some drink from the fountain of knowledge;..... he only gargled."
"Got a full 6-pack, but lacks the plastic thing to hold it all together."
If you like this, we are happy to make it a regular feature. Please let us know. Or even better, please share some of you best business jokes.