What a week it's been. Plenty of S&OP tracks moving up the charts this week and some old favourites still hanging on – but only just.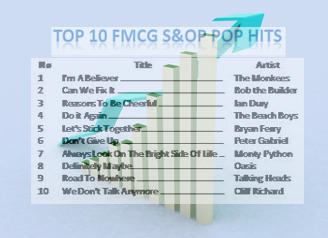 At number 10 it's We Don't Talk Anymore from Cliff Richard – A sign you need an S&OP process. When did you last talk to your Sales or Supply Chain colleague about how to improve sales? Do you spend more time fighting each other than fighting the competition?
Slowly sliding out of the charts is Road To Nowhere by Talking Heads - Working in silos with different targets gets you exactly here – nowhere!
At number 8 is Oasis with Definitely Maybe – This classically poor approach to data in the S&OP process is one to avoid. Make some decisions, get cross-functional buy-in and execute.
Always Look On The Bright Side Of Life by the Monty Python team sits at 7 – Starting S&OP means you are on the way to better days. Keep staff motivated through absolute clarity on reward and sharing of milestone successes. S&OP makes the company look good and not just individuals.
Don't Give Up by Peter Gabriel is in position number 6 – There will inevitably be setbacks as your learn to work in an S&OP environment. Starting S&OP is a major step requiring resources from all functions. Giving up cannot be an option if you want to succeed.
At 5 is Bryan Ferry and Let's Stick Together – A must-do for successful S&OP execution. Derive one set of numbers through close collaboration of all functions and you have a far greater chance of success.
The Beach Boys are at number 4 with Do it Again – The S&OP process cannot stop; your FMCG business is unlikely to take break so you must maintain discipline even over holidays and through peak seasons.
Reasons To Be Cheerful by Ian Dury and the Blockheads remains at number 3 - A cohesive and cross- functional S&OP leads to far greater productivity, happiness and job satisfaction at all levels.
Pushing hard to topple the number 1 is Can We Fix It from Bob the Builder – Inevitably the reality of market dynamics will not match your best laid plans. How you address these challenges through S&OP is what defines a top quality process in a top quality company.
And for the 10th week in a row at number 1 is still I'm A Believer by The Monkees – The essentials mantra of the head of any business seeking to outperform competitors. If the company leader does not buy into S&OP then it will not work, fact!
That's all from the FMCG S&OP top ten. Join me next time for another version of the Supply Chain chart toppers.