There are no individuals in this team. This is a team where the whole is far greater than the sum of the parts. The Supply Chain operates quietly and often in the background but is an essential team for any business.
Team Sheet
| | |
| --- | --- |
| Goal Keeper | S&OP – reliable and a safe pair of hands. Nothing gets past; no slip ups! |
| Left Back | Demand Planning – always one step ahead, likes to get forward. |
| Lentre Half | ERP – robust yet flexible, covers the entire pitch. |
| Centre Half | Procurement – buys time for his colleagues; a valuable team player. |
| Right Back | Supply Planning – a constant supply to midfield and attack |
| Left Midfield | Manufacturing – a play-maker; a reliable supplier of the goods |
| Right Midfield | Warehousing – physically big and strong; contributes loads. |
| Holding Midfield | Transport – swift; seamlessly links defence with attack. |
| Central Midfield | Customer Service – attentive and vocal; keeps an eye on delivery. |
| Striker | Route To Market IKA – fast, direct; on time and in full. |
| Striker | RTM Traditional Trade - well built and knows where the target is. |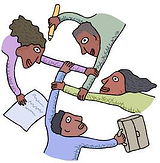 Substitutes
SKU Complexity Reduction – useful towards the end of the game to simplify and refocus the team.
Green - Sustainability – an upcoming youngster who is set to play a major role in the future.
Coach
KPI's – keeps a close track on the team and individual performance. Knows where the weaknesses are.
Perhaps you would like to suggest an alternative line-up? Who do you think should be in the Supply Chain starting eleven?