While third-party logistics outsourcing is accepted business practice (though not without risk), corporations are now looking to outsource to a single partner who will assess, design, build, run and measure integrated comprehensive supply chain solutions on their behalf. This evolution in supply chain outsourcing is Fourth-party Logistics or 4PL.
A 4PL provider is a supply chain integrator. The 4PL assembles and manages all resources, capabilities and technology of an organisation's Supply Chain and its array of providers.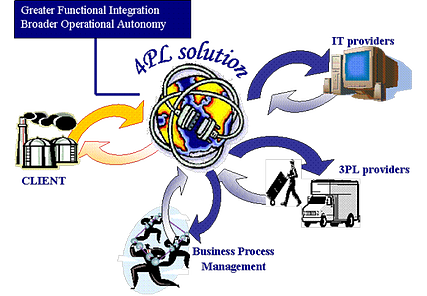 An experienced and reliable 4PL provider will bring value and a reengineered approach to your organisation as it will manage the logistics process, regardless of what carriers, forwarders or warehouses are used. As the centralised contact with the client, 4PL has overall responsibility for logistics performance and the ability to impact the entire supply chain and not just single elements. Consider how many discrete discussions you need to have in your company to ensure your product gets into consumers hands!
Like Business Process Outsourcing, a 4PL solution aims to manage people, process and technology. Importantly, 4PL outsourcing must not be seen as a pure cost reduction issue and if it is considered as such then it is prone to failure. Adopting a 4PL approach brings a different perspective, knowledge, experience and technology to the existing in-house function. Successful 4PL partnerships will see both parties work side by side motivated by mutual success and reward.
Some of the 4PL benefits include: access to a broader base of potential suppliers; back-end system integration; increased market transparency for goods and services; standardisation and automation of order placement; reduced procurement costs and order cycle times. If your business and people are sufficiently mature you might also integrate the 4PL into the S&OP process. Think how powerful that could be!
Organisations are exploring this solution because it can improve their own bottom line through increased and sustainable business efficiency. A word of warning; do not go down this road unless your existing supply chain is already robust AND people are sufficiently experienced to cope with a very different way of doing business.
***

FMCG Producers!
Why not take a critical look at how you manage your Distributors and how they manage your business on your behalf!
Learn more!